Kung Fu 功夫
As you probably know, Kung Fu is the practice of Chinese martial arts. The beginnings of this kind of Chinese art go back thousands of years. Legend says that a famous military general known as the Yellow Emperor was the first to spread the practice of martial arts in the year 2698 BC.
Since then, hundreds of different styles have started with their own rules and philosophies. Some of these styles try to make their movements similar to the movements of animals: quick and natural. These groups often use kicks and jumps as their main kinds of movement.
Other groups' styles are less fluid. Some use a strong, unmoving style in order to focus on the strength of the fighter instead of the movement.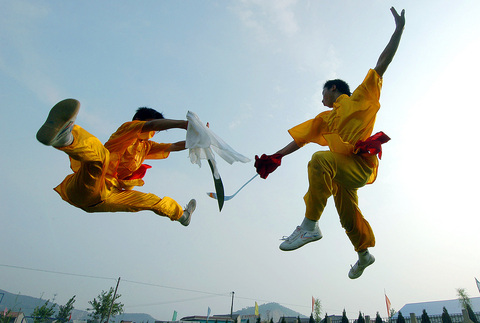 Students at a martial arts school in Nanjing, China practice their moves. 中國南京一所武術學院的學徒在練習招式。 (照片:美聯社)
PHOTO: AP
Although it is largely about the movements of fighting, martial arts is usually practiced more as an interesting and often beautiful way to move and exercise the body and not as a way of actually hurting other people.
(Lynn Steger, Staff Writer)
你大概知道,「功夫」是指中國武術,起源可回溯至數千年前,傳說是西元前兩千六百九十八年,著名武將黃帝首開習武之風。
自此之後,門規與義理各有不同的門派開始百家爭鳴,有些招式試圖仿效動物的動作︰敏捷而且自然。這些派別的主要動作常是踢和跳。
其他門派的招數較不流暢,有些使出強而靜的招式,期將注意力集中在武者自身的力量,而非動作。
武術雖主要是打鬥動作,不過通常只是有趣又優美的健身方式,並非真要用來傷人。(翻譯︰鄭湘儀)
Publication Notes
Today's Words 今天單字
1. legend n.
傳說 (chuan2 shuo1)
例: Legend says that the man who could pull King Arthur's sword from the rock would be the ruler of all of England.
(傳說中,能把亞瑟王的劍從岩石取出的人將是全英國的統治者。)
2. philosophy n.
觀點 (guan1 dian3)
例: While our opinions on small things are different, our overall philosophies on life are very similar.
(我們對小事的看法雖不同,大致的人生觀卻非常近似。)
3. fluid adj.
流暢的 (liu2 chang4 de5)
例: The ballerina's movements were so fluid and soft it was almost as if she was floating through the air.
(這位女芭蕾舞者的動作流暢柔美到就像是漂飛在空中一樣。)
Comments will be moderated. Keep comments relevant to the article. Remarks containing abusive and obscene language, personal attacks of any kind or promotion will be removed and the user banned. Final decision will be at the discretion of the Taipei Times.