Fan's loyalty sold to highest bidder 球迷忠誠度待價而沽
The old joke about a man who would try to sell his own grandmother for a profit has already come true on eBay.
The Internet auction site has also seen one seller launch a bid to sell his soul.
Now comes a story that can be understood by serious sports fans everywhere.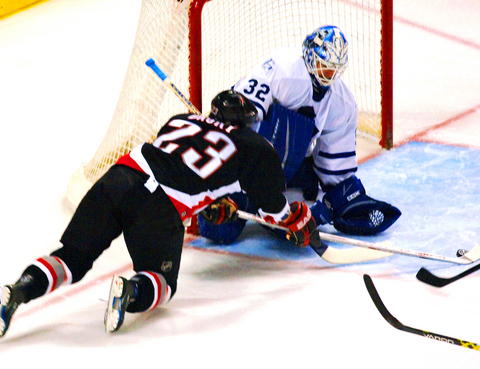 Toronto Maple Leafs goalie Mikael Tellqvist unsuccessfully attempts to defend against Chris Drury of the Buffalo Sabres in Buffalo, New York. 在紐約水牛城,多倫多楓葉隊的守門員米高•戴爾維斯特抵擋不了水牛成軍刀隊克里斯•杜斯的攻勢。 (照片:美聯社)
PHOTO: AP
A North American ice hockey fan, crushed by years of failure, has put his loyalty to his once-beloved team up for sale.
"My Suffering Must End," said the "Free Agent Fan," who put his lifelong loyalty to the Toronto Maple Leafs up for grabs on eBay after the team missed the National Hockey League playoffs.
Crushed by his heros' failure to capture the sport's holy grail, the Stanley Cup, since 1967, the Ontario-based fan said he has concluded his lifelong love of the team has been "nothing short of a disaster."
"I have (a) disease called needacupitis," he wrote.
"I'm looking to become a fan of a team ... who actually will contend for a Stanley Cup at least once before I die."
Catherine England, a spokeswoman for San Jose, California-based eBay, said there have been huge numbers of people trying to sell intangibles on the site.
"In August last year, we had a man list an invisible man -- a naked invisible man," she said.
Enterprising eBayers have also tried to sell a UFO Driver's License, she said. One jilted husband-to-be was so angry, he modelled his fiancee's wedding dress on the site, and sold it off.
Perhaps the most famous sale was that of a half-eaten, 10-year-old grilled cheese sandwich that the owner, a woman from Florida, claimed carried the image of the Virgin Mary.
The item was eventually purchased for US$28,000 (almost NT$900,000) by an Internet gaming company, GoldenPalace.com. (AFP)
一名男子試著在eBay 販賣他祖母牟利的老笑話已經成真。
也有一位賣家在這個拍賣網站販售他的靈魂。
現在,又出現了一個舉世忠誠體育迷都能理解的故事。
北美洲一位冰上曲棍球迷因為球隊連年慘敗,傷心欲絕,已經把他對一度鍾愛的球隊之忠誠度出售。
「自由球員迷」說:「我的苦難必須終結。」自從多倫多楓葉隊錯失擠進全國冰上曲棍球聯盟的總決賽後,他就把對這個球隊的畢生忠誠放在eBay 上拍賣。
自一九六七年起,他崇拜的英雄一直爭奪不到曲棍球的聖杯「史坦利盃」,這位住在安大略的球迷美夢破碎,說自己對球隊的畢生熱愛「簡直是一場災難」。
他在網站上寫著:「我染上了『就是需要獎盃(needacupitis)』的病。」
「我想成為這種球隊的球迷:在我死前,至少可以真的打入史坦利盃決賽一次的球隊??」
e-Bay 在加州聖荷西總部的發言人凱薩琳.英格蘭女士表示,一大堆人想在網站上販售非實體的東西。
她說:「去年八月有名男子在我們網站販售一名隱形男子?裸體的隱形男。」
她指出,極富創意的eBay人也試著販售過飛碟駕駛執照。一位遭毀婚的準新郎甚感憤怒,他在網站上親自展示他未婚妻的結婚禮服,成功把婚紗賣出。
或許,最有名的交易就是十年前被吃了一半的烤起司三明治。賣家是一名住在佛羅里達州的女子,她聲稱三明治顯現聖母瑪莉亞的身影。
這個三明治最後被博奕網站「GoldenPalace.com」以兩萬八千美元(約新台幣九十萬元)買下。
(法新社/翻譯:賴美君)
Publication Notes
Today's Words 今天單字
1. crushed adj.
傷心欲絕的 (shang1 xin1 yu4 jue2 de5)
例:I was crushed when I ruined my favorite shirt.
(當我把最喜歡的襯衫弄壞時,我簡直傷心欲絕。 )
2. holy grail n. phr.
聖杯 (sheng4 bei1),畢生追求之物 (bi4 sheng1 zhui1 qiu2 zhi1 wu4)
例:Some surfers spend their whole life chasing the holy grail of surfing -- the perfect wave.
(有些衝浪者終其一生都在追求衝浪的聖杯?完美的浪。)
3. intangible n.
非實體的 (fei1 shi2 ti3 de5)
例:I will pay you for your jewelry, but I won't buy your certificate for "30 hugs." I'm not interested in intangibles.
(我會替你的珠寶買單,但我不會買下你「三十個擁抱」的證明。我對非實體的東西不感興趣。)
4. jilted adj.
遭毀婚的 (zao1 hui3 hun1 de5)
例:The jilted bride burned her wedding dress in anger.
(遭毀婚的新娘憤而將她的結婚禮服燒了。)
Publication Notes
Reading Comprehension
閱讀測驗
1. Which has NOT been offered for sale on eBay?
a. One man's mother.
b. A naked, invisible man.
c. A wedding dress.
2. Why is the "Free Agent Fan" selling his loyalty?
a. He lost his job.
b. His team has never won a game.
c. He wants to cheer for a team that can compete in the Stanley Cup.
3. What's wrong with the "Free Agent Fan?"
a. He has a deadly disease.
b. No one will pay for him to support a team.
c. He desperately wants to cheer for a cup-winning team.
4. According to the eBay spokeswoman, selling intangibles ...
a. is not uncommon.
b. is illegal.
c. is highly unusual.
Comments will be moderated. Keep comments relevant to the article. Remarks containing abusive and obscene language, personal attacks of any kind or promotion will be removed and the user banned. Final decision will be at the discretion of the Taipei Times.