Berlin's new luxury public bathroom 柏林新豪華公廁
It has soft lights, gleaming red and blue surfaces and a relaxing video of bubbles swirling underwater that plays on the wall.
This isn't a fancy hotel; it's Europe's most expensive public restroom.
The super-restroom, which opened earlier this month in Berlin, is the latest word in modern architecture. It has an elevator and a 24-hour reception, and it costs .50 euros (about NT$20) to use.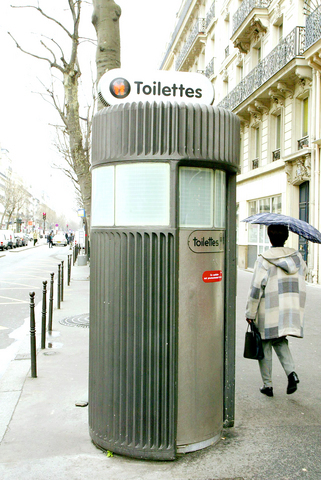 A public bathroom in Paris, which is certainly not as luxurious as the new one in Berlin. 巴黎的公共廁所,顯然不如柏林新公廁奢華。 (照片:法新社)
PHOTO: AFP
There are five bathrooms for men and five for women. Each has air-conditioning and relaxing music.
Hans Wall, the German businessman who built the bathroom, said it cost him 750,000 euros to build, but it was worth it. "I'm very pleased with it. It's been done with love, intelligence and the best of German design. ... It's an oasis from the outside world. Everything is clean and hygienic. You feel refreshed after using it. The mayor of London should pay us a visit and see how it can be done."
The area where the restroom is located used to be run down, but new stores are improving it. "This place used to be full of drug addicts. It was very dark. I didn't fancy using it much. I was worried about being robbed," said Wolfgang Gellesch, 62, who works near there. "Now the facilities are excellent. It's a symbol of the new Germany."
The underground restroom opened just weeks before Germany hosts the World Cup, with thousands of visitors expected to visit the capital.
Berlin's government has thanked Mr Wall for his work by offering him free advertising space. (Guardian)
燈光柔和;外觀閃爍著紅藍光點;牆上播放泡泡在水裡打轉的輕鬆影片。
這不是高級旅館,它是歐洲最昂貴的公共廁所。
這間「頂級公廁」本月稍早在柏林啟用,是現代建築的最新產物,有升降設備和二十四小時服務處,使用費零點五歐元(約新台幣二十元)。
內設男女廁各五間,有冷氣和輕鬆的音樂。
德國建商漢斯*華爾表示公廁造價七十五萬歐元,不過很值得。他說:「我感到非常開心,它融合了愛、智慧和德國最頂級的設計,是戶外的綠洲。所有設備乾淨衛生,如廁後神清氣爽,倫敦市長應該來拜訪觀摩。」
公廁所在區域曾經破敗髒亂,不過新商店進駐後情況有改善。今年六十二歲,在附近工作的沃夫甘*蓋勒奇說:「這裡以前很陰暗,到處都是毒蟲,因為怕被搶我根本不敢上公廁,現在的設備很棒,是新德國的象徵。」
今年世界盃足球賽由德國主辦,這間地下公廁於開賽前幾週啟用,預計將有成千上萬名觀光客遊訪首都柏林。
柏林市府提供華爾先生免費廣告空間以表感謝之意。
(衛報/翻譯:鄭湘儀)
Publication Notes
Today's Words 今天單字
1. gleaming v.
閃爍 (shan3 shuo4)
例:On nice days, Craig likes to wash his car and then sit and look at it gleaming in the sun.
(克雷格喜歡在晴天洗他的車,然後坐著看它在太陽底下閃耀。)
2. oasis n.
綠洲 (lu4 zhou1)
例:On hot days, air-conditioned 7-11s are oases from the heat.
(有冷氣的 7-11 是炎日避暑的綠洲。)
3. hygienic adj.
衛生的 (wei4 sheng1 de5)
例:The restaurant was closed because its kitchen wasn't hygienic.
(這家餐廳因廚房不衛生而關門大吉。)
4. run down adj. phr.
損壞 (sun3 huai4)
例:My apartment building became so old and run down that it had to be torn down.
(我的老公寓已破舊到必須拆毀。)
Publication Notes
Reading Comprehension
閱讀測驗
1. The super-restroom has everything except ...
a. a receptionist.
b. an elevator.
c. free telephones.
2. According to Hall, how does one feel after using it?
a. Sleepy.
b. Refreshed.
c. Loved.
3. The super-bathroom is located ...
a. underground.
b. in a fancy hotel.
c. in a new store.
4. How has the German government thanked Hall?
a. It has given him free advertising space.
b. He will be honored at the World Cup.
c. His taxes will be lowered.
Comments will be moderated. Keep comments relevant to the article. Remarks containing abusive and obscene language, personal attacks of any kind or promotion will be removed and the user banned. Final decision will be at the discretion of the Taipei Times.