Ice climbing
How do you climb mountains of ice? Isn't it too slippery to climb?
Climbing ice isn't like climbing rocks or mountains. Ice climbers don't use their hands to climb. They use special tools.
Ice climbers have special shoes that have sharp spikes on the bottom. When they climb, they kick the sharp spikes into the ice so that they don't slip.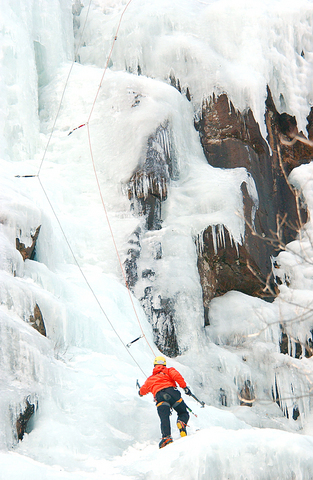 PHOTO: AP
Ice climbers also have two sharp hammers that they hold in each hand. When they climb, they hit the ice with their hammers so that it sticks in the ice, then they pull themselves up.
But the most important tool that all ice climbers have is a rope!
Publication Notes
Do you know?
STRONG ICE
Sometimes the things that people climb are frozen waterfalls. Even though it seems like this ice would break very easily, it is actually very strong. Climbers only have to hammer a few centimeters into the ice, and it will hold their weight without breaking.
Publication Notes
The words of the day
spike n.
尖釘 (jian1 ding1)
One day when I was driving, my car's tire was popped by a sharp spike in the road.
我某日開車時,車子被路上的尖釘刺到爆胎。
hammer n.
錘子 (chui2 zi5)
Comments will be moderated. Keep comments relevant to the article. Remarks containing abusive and obscene language, personal attacks of any kind or promotion will be removed and the user banned. Final decision will be at the discretion of the Taipei Times.