Human snowflake
Take a close look at this picture. Those aren't birds, they're people.
These people are not flying. They are falling through the air toward the ground. But they aren't afraid -- they planned this.
They are trying to make a shape in the sky. Can you tell what it is? It's a snowflake!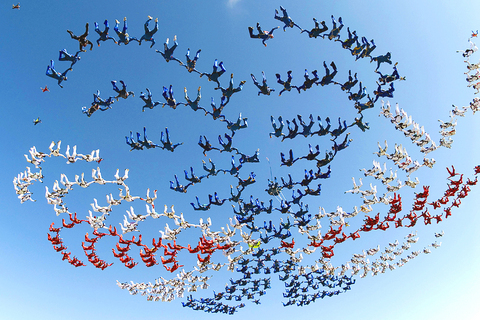 PHOTO: AP
They probably could have made a smaller snowflake with 20 to 30 people, but these people were looking for a challenge. They used 400 people from 31 countries to make this snowflake.
Can you imagine how hard it is to cooperate with 399 other people while you are falling from the sky? For most people, it's hard to cooperate with just one other person!
Publication Notes
Do you know?
RECORD BREAKING
When these people all finally got connected, they broke a world record for the most people in a formation after jumping out of a plane. They held on for about four seconds. They jumped from 7,200m, which gave them only 83 seconds to link up.
Publication Notes
The words of the day
challenge n.
挑戰 (tiao3 zhan4)
cooperate v.i.
合作 (he2 zuo4)
Working in small groups is a good way to learn how to cooperate with others.
在小團體工作是了解如何與他人合作的好方式。
Comments will be moderated. Keep comments relevant to the article. Remarks containing abusive and obscene language, personal attacks of any kind or promotion will be removed and the user banned. Final decision will be at the discretion of the Taipei Times.