White: a scary color
How many living things can you see in this picture?
There are a few fish, but the white things the fish are swimming around are also alive. They are called coral. Healthy coral should not be so white.
Normally, tiny living things live right on top of the coral. You can't see them with your eyes, but you know they're there because they change the color of the coral. When these living things are on the coral, the color is much darker.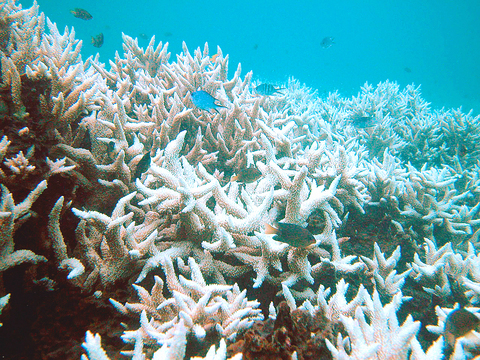 PHOTO: AP
Coral needs these tiny things to stay alive. Sometimes, when the water gets too warm, these living things cannot hold on to the coral and they float away. When this happens, the coral cannot survive.
Publication Notes
Do you know?
CORAL BLEACHING
This coral is part of the Great Barrier Reef (大堡礁), which is in the ocean off the northeast coast of Australia. In 1998 and 2002, many of the tiny creatures that lived on the coral died. This is called "coral bleaching." Sixty percent of the reef was hurt by this. In some areas, 90 percent of the coral died.
Publication Notes
The words of the day
coral n.
珊瑚 (shan1 hu2)
survive v.i./v.t.
存活 (cun2 huo2)
People cannot survive without food and water.
沒有食物和水,人類無法存活。
Comments will be moderated. Keep comments relevant to the article. Remarks containing abusive and obscene language, personal attacks of any kind or promotion will be removed and the user banned. Final decision will be at the discretion of the Taipei Times.