Flat pupils
The black spot in the middle of your eye is called your pupil. Go to a mirror and look at your pupils.
People have round pupils, but this animal's eyes have flat pupils. Not all animals have flat pupils, just some of them. Most snakes that are poisonous have flat pupils; snakes that are not poisonous have round pupils. But if you see a snake, you shouldn't get close enough to check!
Your pupils are like the doors to your eyes. When it's dark outside, you pupils open up and get really big so that lots of light can get into your eyes and you can see. When it's really sunny out, your pupils get really small so that your eyes don't get hurt from too much light.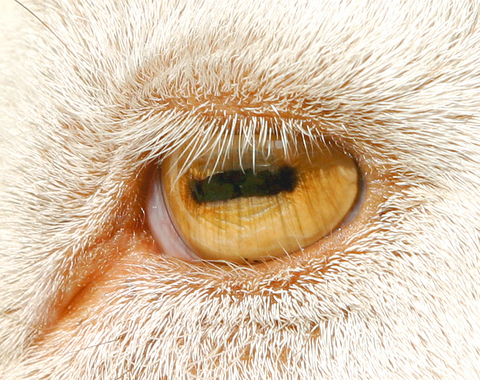 PHOTO: EPA
Publication Notes
Do you know?
A SMART PUPIL
The word ``pupil'' can also mean ``student.'' It doesn't
just mean students in a school, but anyone who is being taught something. If someone teaches you to paint, you are that person's pupil. If you teach someone to sing, that person is your pupil.
Publication Notes
The words of the day
mirror n.
鏡子 (jing4 zi3)
poisonous adj.
有毒的 (you3 du2 de5)
Don't eat that plant! It is poisonous and will make you sick.
別吃那株植物,它有毒,吃了會讓你生病。
Comments will be moderated. Keep comments relevant to the article. Remarks containing abusive and obscene language, personal attacks of any kind or promotion will be removed and the user banned. Final decision will be at the discretion of the Taipei Times.