Turned around and upside down
Sometimes when you can't reach something in a high place, a friend might give you a boost. But have you ever actually stood on top of someone else?
For the girls in this picture, that's the easy part. They are part of a group called the Shangri-la Chinese Acrobats.
Acrobats are very interesting to watch. Because they work hard and train every day, they can make their bodies do things you might not have known human bodies could do.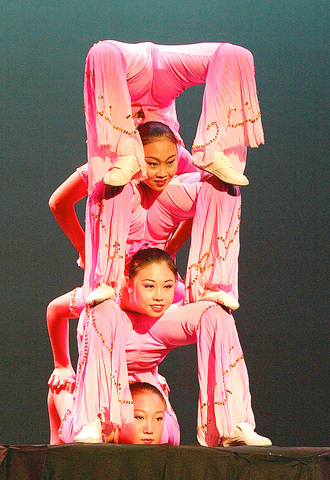 PHOTO: AP
The girls in this picture are doing a trick so unusual that it's hard to see excactly what they're doing.
Look closely. Can you tell whose head, hands and feet are whose?
Publication Notes
Do you know?
EXCELLENT ENTERTAINERS
Although many people all over the world like to watch acrobats, this group is especially famous in the US. They have been on two American television shows: The Wayne Brady Show and Guinness Book of World Records.
Publication Notes
The words of the day
boost
鼓勵 ( gu3 li4)
Tammy was feeling sad, but when the teacher told her that she had gotten an A on her test, it gave her a boost.
泰咪心情不好,不過老師說她考試拿到優等時,給了她一個鼓勵。
acrobat
特技演員 (te4 ji4 yan3 yuan2)
Comments will be moderated. Keep comments relevant to the article. Remarks containing abusive and obscene language, personal attacks of any kind or promotion will be removed and the user banned. Final decision will be at the discretion of the Taipei Times.