Be careful!
If the sun is above the man in this picture, where is he standing?
He is standing high off the ground, and all he has to walk on is a thick rope. People who walk high in the air on a thick rope are called tightrope walkers. This man dances up there too!
A person must be very brave to be a tightrope walker. They also must have very good balance. Walking a tightrope is dangerous, and if you fall, you will be hurt badly.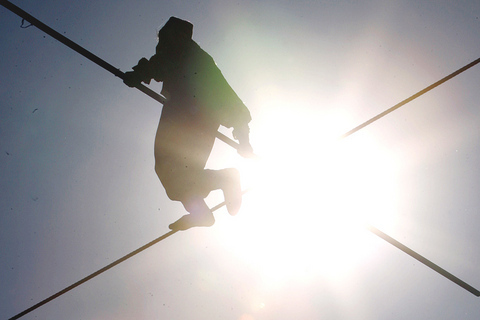 PHOTO: AP
For most people, falling off the tightrope is enough danger. But this man is walking over a lion pen at a zoo in Beijing. If he falls, the lions will be waiting for him!
Luckily, he is holding a long stick, which helps him stay balanced.
Publication Notes
Do you know?
WHAT'S NEXT?
This man is trying to break four world records. Besides walking over lions, he wants to walk a tightrope blindfolded, run for 100m, walk without stopping for 200m, and walk for 200m without the stick in his hand that helps him stay balanced. Good luck!
Publication Notes
The words of the day
tightrope
繩索 (sheng2 suo3)
pen
欄 (lan2),圈 (quan1)
On a farm, if animals escape from their pens, things can get really crazy.
農場裡,如果動物從圍欄內脫逃,事情就會變得很荒誕。
Comments will be moderated. Keep comments relevant to the article. Remarks containing abusive and obscene language, personal attacks of any kind or promotion will be removed and the user banned. Final decision will be at the discretion of the Taipei Times.