Oh, the uses, and abuses, of cellphones!
For some people, cellphones are a wonderful convenience of modern life; for others, they are irritating contraptions that should be banned from public areas. A retired newspaper columnist in the US gives his take on the mobile phone phenomenon
A woman riding a borrowed horse recently in the rugged desert north of Phoenix, Arizona backed into a cactus on a steep hillside and was thrown for a nasty spill. She thought she'd broken her shoulder, but managed to dial for help on her mobile phone.
Rescuers soon were on their way in helicopters, along with a swarm of Phoenix TV news helicopters chasing what turned out to be a good news story.
The woman was airlifted out of the wilderness with nothing worse than a dislocated shoulder.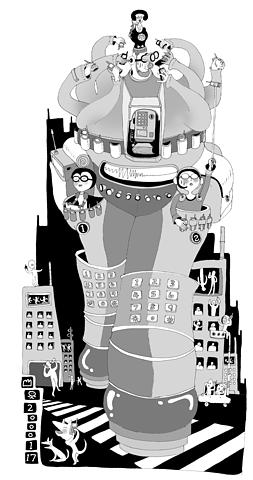 Illustration: Mountain People
Good news for the woman, granted, but bad news for me.
Why? Because I hate mobile phones.
The story was just the kind of convenient little anecdote that cellphone addicts will trot out in their effort to discredit my latest crusade.
As the founding president of CRACPOT -- the Campaign to Rid America of Cellular Phones Over Time (because you can't do it overnight) -- I am getting used to the slings and arrows of cellphone extremists.
But despite these kinds of setbacks, I'm optimistic about CRACPOT because I believe the cellphone scourge in the US and overseas will soon reach the stage that smoking reached a few years ago. Have you noticed the way that smokers in the US now skulk around in alleyways and under stairways when they're trying to sneak a puff? I can see the day when cellphone addicts will be doing exactly the same thing.
Movie madness
We'll reach critical mass, I'm convinced, because of experiences like I had in one 15-hour period last month. I took my two young daughters to see The Adventures of Elmo in Grouchland.
Besides being intellectually riveting, the movie used the novel technique of encouraging the audience to react vocally to what was happening on screen. I was captivated by all this, trying to figure out if what I was hearing was from the characters on the screen or the characters in the audience. Then, all of a sudden, not six feet behind me, a cellphone blasted off, ruining an otherwise memorable movie experience.
You might call that happenstance, but on the way home that evening, what looked like a 12-year-old turned in front of me while running a left-turn red light. He had one hand on the steering wheel, one hand apparently on the gearshift and a cell phone wedged between his shoulder and his head, which was bent at a 90-degree angle. He would have taken off my frontend if I had not slammed on the brakes.
The next morning, I was standing in line at a coffee shop, working a crossword puzzle, when I heard a woman's rising voice not two feet from my shirt collar: Carla, listen to me. Listen to me! You've got to look at this as a chance for personal growth!
Was Marla listening? Those of us on our end of the cellphone conversation certainly were. We had no choice. I gave the woman my most contemptuous stare, which was wasted. What I started to say, but didn't, was: "Lady, if Marla is anywhere near your age, her personal growth stopped about 1965."
I looked around for supporting scowls. There were precious few. I counted 21 people inside the coffee shop and on the patio out front. Of the 21, eight more were talking on cellphones, including a woman parking a bicycle and another who'd just finished her morning run and had pulled both a water bottle and a cellphone from her fanny pack.
Reaching out
I recognized once again a phenomenon of the Baby Boomer age that has been too little researched or remarked upon by sociologists: People are more important than they used to be.
How else to explain that there will soon be 100 million celphones in use in the US? Who can risk being out of touch any more, anywhere, any time?
I know, some of you will say that in a free country people should be able to own as many cellphones as they like. But I'm selfish. And I say that I should be able to go out without being subjected to the obnoxious jabbering of pretentious boors who choose to conduct their private business in public. Or, for that matter, being subjected to the growing danger, as cited in a recent federal study, of sharing the road with drivers preoccupied with phone chat. Until the US regulators and litigators enter the picture -- and they will -- those who'd like to join my crusade can help by taking small, sometimes subtle, steps:
* Invest in companies that manufacture pay phones. They must be kept afloat until the global cellphone mania subsides.
* Patronize restaurants and other establishments that prohibit the use of mobile phones. Otherwise, demand to be seated in the non-cellphone section.
And if you should be so fortunate as to see a cellphone user get the hook, triple your tip and let the manager know why.
* Refuse to play golf with anyone who carries a cell phone in his bag. It's a practice I adopted and friends (especially those who've seen my game) have praised me for standing on principle.
* Most of all, savor the moments when you're free from second-hand cellphone conversations.
I had one of those recently when I took the family to Fort Apache and the White Mountains in eastern Arizona. My wife had acquired, only days before, the latest model of a cellphone about the size of a deck of cards. It came with a plug-in microphone and speaker so you can talk, listen and drive without having to hold the little darling. Now, when she calls from between shopping malls on the weekend, you can hear the kids fighting in the back seat.
Anyway, Phoenix was two hours behind us and we were climbing the Mogollon Rim. At 8,000 feet, our eyes were drawn to mountain peaks stretching far to the south, bathed in the fading glow of another breath-taking Arizona sunset. But I could tell my wife was distracted, and finally she blurted it out: I think I'll see if I can call the office.
Tap. Tap, tap, tap. Tap, tap, tap. Tap, tap, tap, tap.
Tap.
Nothing. Absolutely sweet nothing.
God, I love technology.
Don Campbell is a former columnist for the USA Today newspaper. He lives in Phoenix, Arizona. Although he doesn't use a mobile phone, he does get e-mail at: donc43@infinet-is.com
Comments will be moderated. Keep comments relevant to the article. Remarks containing abusive and obscene language, personal attacks of any kind or promotion will be removed and the user banned. Final decision will be at the discretion of the Taipei Times.