Tourist carrying in-flight meal is stopped at airport
Taipei International Airport (Songshan airport) customs officers yesterday stopped a tourist for carrying an in-flight meal containing meatballs in contravention of the Act for Prevention and Control of Infectious Animal Disease (動物傳染病防治條例).
Council of Agriculture officials were inspecting luggage at the airport when a sniffer dog detected meat in the carry-on luggage of the tourist, who had just arrived from Japan's Haneda Airport.
Customs officers checked the luggage and found the boxed meal. Council personnel confirmed that it contained pork ingredients after running it through a scan.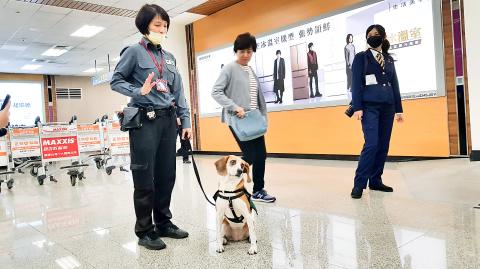 A Bureau of Animal and Plant Health Inspection sniffer dog sits next to its handler at Taipei International Airport (Songshan airport) yesterday.
Photo: Chien Hui-ju, Taipei Times
The tourist disposed of the meal and was let off without a fine.
As the spread of African swine fever in Asia does not show any sign of abating, the government is to dispatch 300 additional officials to the nation's borders to prevent illegal pork imports during the Lunar New Year holiday, Council of Agriculture Minister Chen Chi-chung (陳吉仲) told reporters at the airport.
Flights to the airport mainly arrive from China, South Korea and Japan, Chen said, adding that China and South Korea have been affected by the disease.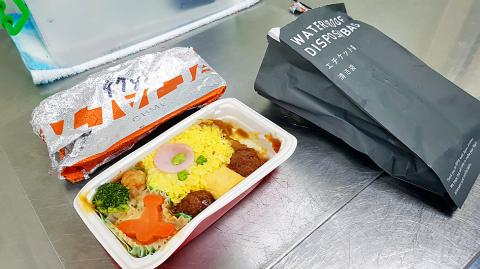 An in-flight meal containing pork that was confiscated from a passenger arriving from Japan is pictured at Taipei International Airport (Songshan airport) yesterday before being destroyed.
Photo: Chien Hui-ju, Taipei Times
The government would face a tougher challenge containing the virus during this year's holiday, he added.
Only China had reported an outbreak by the Lunar New Year holiday in February last year, but the disease has since spread to Mongolia, Vietnam, Cambodia, North Korea, Laos, Myanmar, the Philippines, South Korea, East Timor and Indonesia, council data showed.
Nearly 41 percent of Vietnamese pork products intercepted at the border have tested positive for the disease, while the ratio of tainted Chinese pork products is 15 percent, Chen said.
People caught illegally transporting pork products from nations that have reported an outbreak of African swine fever in past three years could face a NT$200,000 (US$6,647) fine for a first contravention and NT$1 million for repeat offenses, he said.
The most common imports during the Lunar New Year holiday are sausage, preserved pork and ham products, which pose a greater risk of transmitting the virus as they do not undergo disinfection under high temperature, he said, adding that the import of pork floss is also banned.
All carry-on and checked luggage of inbound tourists would undergo X-ray scanning at the airport, said Kuo Hsiao-ying (郭小鶯), director of the Songshan quarantine station of the Bureau of Animal and Plant Health Inspection and Quarantine's Keelung Branch.
During the holiday, 80 flights would arrive from China, 14 from South Korea and 56 from Japan, while nearly 3,700 to 4,700 passengers are expected to arrive at the airport every day, she said.
After passengers disembark from a plane, their checked luggage would go through X-ray scanners, while sniffer dogs would be stationed near the luggage carousels to intercept meat products, she said.
The Coast Guard Administration would inspect fishing boats docked at the nation's ports during the holiday, Chen added.
Comments will be moderated. Keep comments relevant to the article. Remarks containing abusive and obscene language, personal attacks of any kind or promotion will be removed and the user banned. Final decision will be at the discretion of the Taipei Times.