Final legs of new Suhua Highway open
EAST COAST DREAMS: Tourism-related businesses in Hualien County are hoping for a boost, but their colleagues in Yilan County fear their locations might see a decline
By Yu Ming-chin, Wang Chun-chi and William Hetherington / Staff reporters, with staff writer and CNA
Safer and faster road travel in eastern Taiwan became a reality yesterday with the official opening of the improved Suhua Highway connecting Yilan and Hualien counties, shortening travel time between the two counties from almost 160 minutes to 100.
Premier Su Tseng-chang (蘇貞昌) told the inauguration ceremony that the government would continue to enhance road safety on sections not covered by the improved highway.
The upgraded road bypasses the most dangerous parts of the old highway, mostly through the use of tunnels, which account for more than 60 percent of the new road, the Ministry of Transportation and Communications said.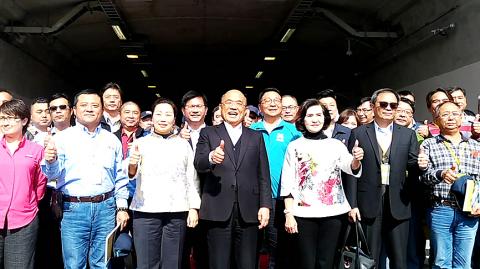 Premier Su Tseng-chang, center, yesterday poses with officials during the inauguration of the improved Suhua Highway at the southern exit of the tunnel in Yilan County.
Photo: Chiang Chih-hsiung, Taipei Times
The 38.8km project covers three sections: from Suao (蘇澳) to Dongao (東澳) townships in Yilan County; from Yilan's Nanao Township (南澳) to Heping Township (和平) in Hualien County; and from Hejhong (和中) to Dacingshuei (大清水) in Hualien.
The first stretch opened on Feb. 5, 2018, and the second and third sections opened yesterday.
As the improved highway allows for a reduction of one hour in travel time between Yilan and Hualien counties, tourism industry operators in Hualien expressed hope the improved highway will boost tourism in the county.
Hualien Hostel Association director Chen Ping-chung (陳秉忠) said he hopes tourism numbers increase by 30 percent in the coming year, and said industry revenue could increase by as much as NT$6.6 billion (US$219.2 million).
Accommodations providers were seeing a 90 percent occupancy rate for the Lunar New Year holiday later this month, and they hoped to reach full occupancy before mid-February, he said.
However, Hualien Tourism Hotel Trade Association director Kao Shui-lu (高水祿) said occupancy rates varied by hotel, with some reporting only 70 percent occupancy for the first four days of the holiday, which begins on Jan. 24, and others reporting 80 to 90 percent occupancy.
He hoped the highway would bring more tourists into Hualien in the future, Kao said.
Yilan accommodations providers are concerned they will be marginalized as tourism to Hualien increases, with many citing as an example the reduction of tourism in New Taipei City's Pinglin District (坪林) after improvements to the Chiang Wei-shui Memorial Freeway (Freeway No. 5) made areas further south more accessible.
Whether tourism in Yilan would be affected would require looking at how traffic jams develop on the Suhua Highway, Yilan Association of Tourism director Wang Wen-hsin (王文新) said.
In the past, travelers from Taipei would spend a night in Yilan and then a night in Hualien before heading home, but with the improved road, they might instead opt to spend two nights in Hualien, or even travel to Taitung, he said.
However, if traffic jams occurred on the highway they may simply do as they did in the past and stay for a night in Yilan, he said.
Yilan would attempt to offset possible losses by marketing the county's special characteristics, and would also attempt to attract visitors with deals on accommodations, Yilan County Business and Tourism Department Director Lee Tung-ju (李東儒) said.
Yesterday also saw the start of the first direct daily bus service between greater Taipei and Hualien, with buses departing every 20-30 minutes from Taipei's Nangang District (南港) and New Taipei City's Banciao District (板橋).
The trip would take an average 3.5 hours one way and cost NT$320 to NT$352, the ministry said.
Comments will be moderated. Keep comments relevant to the article. Remarks containing abusive and obscene language, personal attacks of any kind or promotion will be removed and the user banned. Final decision will be at the discretion of the Taipei Times.