Tsai open to Xi meeting, but not at cost of nation
President Tsai Ing-wen (蔡英文) yesterday said she is open to a meeting with Chinese President Xi Jinping (習近平), but not at the cost of Taiwan's sovereignty or security.
"To maintain cross-strait peace and stability, I am willing to try any possibility," Tsai said to reporters after a plaque-unveiling ceremony for the National Nature Park Headquarters in Kaohsiung.
However, this could not be done "at the cost of the nation's sovereignty and the nation's security," she said.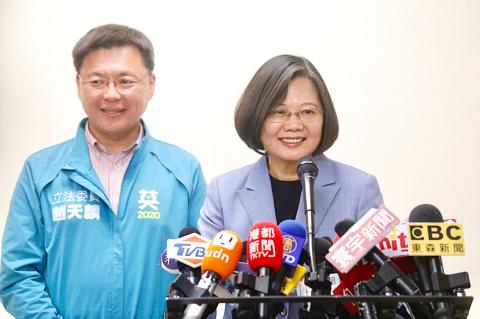 President Tsai Ing-wen, right, is accompanied by Democratic Progressive Party Legislator Chao Tien-lin at a plaque-unveiling ceremony for the National Nature Park Headquarters in Kaohsiung yesterday.
Photo: CNA
Tsai made the comments when asked about her Formosa TV interview that aired on Wednesday, in which she said she "has not ruled out any interaction" with Beijing.
Host Clara Chou (周玉蔻) asked Tsai whether her cross-strait policy would change during a second term if she is re-elected.
"I think my attitude is consistent," Tsai said. "We do not provoke, do not move forward rashly. We welcome China to, under no political preconditions, engage in all kinds of communication with us."
"Many second-term presidents hope to make breakthroughs in diplomacy, international affairs," Chou said. "Are you hoping for the possibility of a visit to China?"
Tsai said she is aware that presidents might want to build a "legacy."
"But for me, the most important thing is still the safeguarding of the basic interests of Taiwanese," she said.
Chou also asked Tsai whether the US "pressures" her.
"On cross-strait relations, do Americans affect your decisions?" Chou asked.
"At least so far ... I have not felt that way," Tsai said.
In Kaohsiung, Tsai was asked her opinion on remarks former premier Simon Chang (張善政) made about Premier Su Tseng-chang (蘇貞昌).
On Wednesday, Chang, the Chinese Nationalist Party's (KMT) vice presidential candidate, said that "the gods would send [Su] back to the hospital very soon" if he kept making "sour" remarks at the Executive Yuan.
Su recently experienced Bell's palsy, according to the Executive Yuan. Chang apologized yesterday to Su and his family.
Candidates should "pay special attention" to their words and actions, Tsai said.
Comments will be moderated. Keep comments relevant to the article. Remarks containing abusive and obscene language, personal attacks of any kind or promotion will be removed and the user banned. Final decision will be at the discretion of the Taipei Times.