George H.W. Bush dies at age 94
Former US president George H.W. Bush, who helped steer the US through the end of the Cold War, on Friday died at age 94, his family announced.
Tributes quickly poured in for the former US leader, a decorated war pilot and onetime CIA chief who also saw one son follow in his footsteps to the Oval Office.
Bush's passing came just months after the death in April of his wife and revered first lady Barbara Bush — his "most beloved woman in the world" — to whom he was married for 73 years.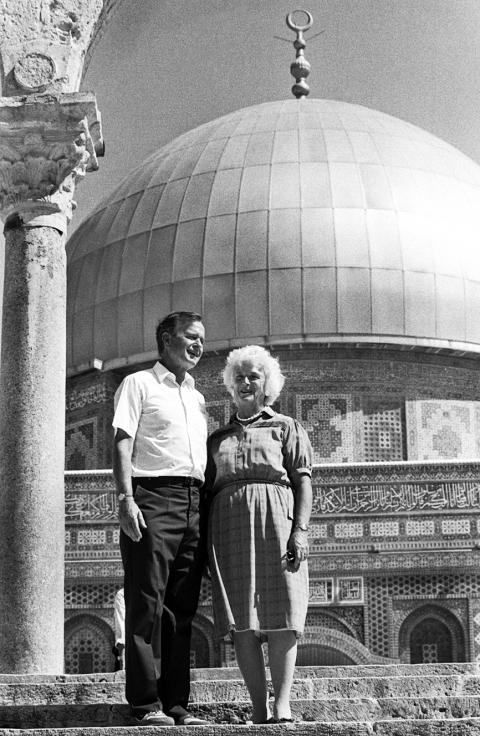 Former US president George H.W. Bush, left, and his wife, Barbara, pose for photographs at Temple Mount in Jerusalem's Old City on July 27, 1986.
Photo: EPA-EFE
"Jeb, Neil, Marvin, Doro and I are saddened to announce that after 94 remarkable years, our dear Dad has died," former US president George W. Bush said in a statement released on Twitter by a family spokesman, referring to his siblings.
"George H.W. Bush was a man of the highest character and the best dad a son or daughter could ask for," he said.
"The entire Bush family is deeply grateful for 41's life and love, for the compassion of those who have cared and prayed for Dad, and for the condolences of our friends and fellow citizens," he added, referring to his father as the 41st US president.
George H.W. Bush is survived by five children and 17 grandchildren.
Funeral arrangements are to be announced in due course, a family spokesman said.
US President Donald Trump, who was in Argentina attending the G20 summit, hailed George H.W. Bush's "sound judgement, common sense and unflappable leadership."
"Through his essential authenticity, disarming wit and unwavering commitment to faith, family and country, President Bush inspired generations of his fellow Americans to public service," Trump said in a statement. "As president, he set the stage for the decades of prosperity that have followed."
George H.W. Bush, born on June 12, 1924, in Milton, Massachusetts, into a wealthy New England political dynasty, put his inevitable political career on hold to join the US Navy during World War II.
He flew 58 combat missions and was shot down over the Pacific by Japanese anti-aircraft fire.
After a brief career in the oil industry, he entered politics, serving in the US House of Representatives and as director of the CIA before being elected vice president to former US president Ronald Reagan.
As he accepted the US Republican Party's nomination for president in 1988, George H.W. Bush pleaded for a "kinder, gentler nation."
He went on to easily defeat US Democratic presidential candidate Michael Dukakis that November.
George H.W. Bush was a foreign policy stalwart who declared a "new world order" in 1990 and drove Iraq from Kuwait in a matter of weeks with a lightning air and ground assault — and the backing of a coalition of 32 nations.
However, he suffered the ignominy of being a one-term president, denied a second term over a weak economy when he lost the 1992 US presidential election to former US president Bill Clinton.
Comments will be moderated. Keep comments relevant to the article. Remarks containing abusive and obscene language, personal attacks of any kind or promotion will be removed and the user banned. Final decision will be at the discretion of the Taipei Times.