China protests third US Navy transit through Strait
China again warned the US against stoking military tensions after two US warships on Wednesday sailed through the Taiwan Strait, the third such show of force this year.
The US sailed an Arleigh Burke-class guided-missile destroyer and a Henry Kaiser-class fleet replenishment vessel through the Strait, according to the US Naval Institute, an independent organization that tracks naval affairs.
China "expressed concern to the US side" over the move, Chinese Ministry of Foreign Affairs spokesman Geng Shuang (耿爽) told a briefing in Beijing yesterday.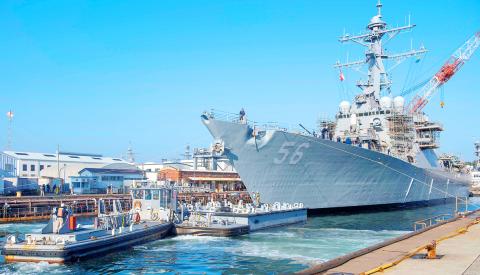 The Arleigh Burke-class guided missile destroyer USS John S. McCain prepares to depart after an extensive maintenance period in Yokosuka, Japan, on Tuesday.
Photo: Reuters / US Navy
"The Taiwan issue concerns the sovereignty and territorial integrity of China," he said.
Taiwan remains the "most important and sensitive issue" in relations between the two superpowers, Geng said, repeating a message delivered to US National Security Adviser John Bolton earlier this month by Chinese State Councillor Yang Jiechi (楊潔篪).
The transit came shortly before talks between Chinese President Xi Jinping (習近平) and US President Donald Trump at the G20 summit in Buenos Aires.
"The frequency of these reported passages is unprecedented," said Collin Koh Swee Lean, a research fellow at the S. Rajaratnam School of International Studies in Singapore. "I'll caution to add that these are reported transits, not counting possible unreported ones. Hence it's hard to draw a full picture."
It was the first US show of force in the Strait since Saturday's local elections.
Geng urged the US to abide by its "one China" policy and "properly handle Taiwan-related issues so as to avoid undermining China-US relations and the peace and stability across the Taiwan Strait."
Comments will be moderated. Keep comments relevant to the article. Remarks containing abusive and obscene language, personal attacks of any kind or promotion will be removed and the user banned. Final decision will be at the discretion of the Taipei Times.