Draft act aims to draw mid-level foreign workers
BUSINESS FRIENDLY: The bill would remove the requirement for foreign businesses to have a certain amount of assets or make a certain amount of revenue
The Executive Yuan yesterday unveiled a "new economy immigration" bill, which seeks to relax regulations on foreign professionals and attract "mid-level" foreign skilled workers.
As immigration laws are only concerned with hiring foreign professionals and migrant workers, the nation has very few mid-level skilled workers from abroad, National Development Council Minister Chen Mei-ling (陳美伶) told a weekly news conference at the Executive Yuan in Taipei.
There were about 210,000 fewer mid-level foreign workers than were needed last year, with the manufacturing industry experiencing the biggest shortfall, she said, citing government data.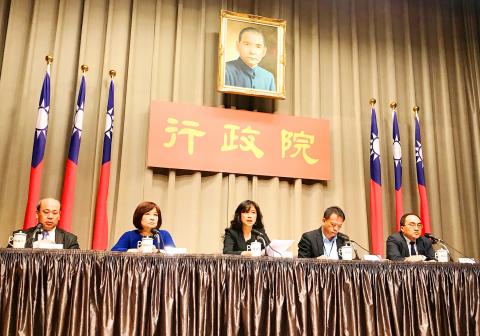 From left, Central Election Commission Vice Chairman Chen Chao-chien, National Development Council Minister Chen Mei-ling, Executive Yuan spokeswoman Kolas Yotaka, Deputy Minister of Labor Shih Keh-her and Industrial Development Bureau Director-General Leu Jang-hwa attend a news conference at the Executive Yuan yesterday.
Photo: CNA
According to the bill, the category includes people with credentials to work as technicians or technical assistants, tradespeople, machine operators and personal healthcare professionals, in addition to other occupations to be defined by the government.
Eligible applicants would be required to fulfill at least one of three qualifications: Hold a high-school or equivalent degree, or have graduated from the Overseas Community Affairs Council's Overseas Youth Vocational Training Workshop; have worked in Taiwan for at least six years as a migrant worker; or fulfill other government-defined criteria that would boost economic development, the bill says.
Salaries paid to such workers must not be lower than the 70th percentile of the average salary in the worker's profession and applicants must have obtained necessary credentials issued by the central government or other recognized institutions to practice their chosen profession, the bill states.
The bill also proposes relaxing a rule that restricts permanent residency for foreign professionals and mid-level foreign skilled workers by allowing them to obtain permanent residency after they have lived in the nation for an average of at least 183 days per year within five consecutive years — instead of at least 183 days every year for at least five consecutive years.
Mid-level foreign workers' spouses and children would be eligible to apply for permanent residency once the worker has fulfilled the aforementioned requirement, provided that the worker has passed financial or skill checks, the bill says.
Foreigners with permanent residency would be included in the government's employment insurance plan, as well as its child-rearing and public kindergarten subsidy programs, it says.
Those who work in the private sector would be protected by the labor insurance system, while those working as public-school teachers would be able to claim their pensions on a monthly basis under the civil servant and teacher insurance system, the draft says.
Mid-level foreign skilled workers are not classified as blue collar or migrant workers, Chen said.
Such workers must be sourced based on the prerequisite that they would not affect the salary levels or employment chances of Taiwanese, she added.
This means that the total number of such workers, as well as the number allowed in each industry, would be subject to a quota, she said.
The bill also seeks to lift restrictions that require foreign employers to possess a certain amount of assets or make a certain amount of revenue, greatly relaxing rules on foreign businesses.
It also includes a rule on "resident investors," which says that foreigners or overseas Taiwanese who do not have a household registration, but who have been granted residency due to the amount of their investments, could apply for permanent residency.
If passed, the act would integrate rules on immigrant investors and permanent residents, demonstrating the government's resolve to strengthen the nation's workforce and to synchronize it with the rest of the world, National Development Council Deputy Minister Kao Shien-quey (高仙桂) said.
Comments will be moderated. Keep comments relevant to the article. Remarks containing abusive and obscene language, personal attacks of any kind or promotion will be removed and the user banned. Final decision will be at the discretion of the Taipei Times.