2018 ELECTIONS: NCC says it has not been selectively enforcing the law
AUTHORITY: The agency said the task of determining whether broadcast content has contravened election laws is for the Central Election Commission to decide
The National Communications Commission (NCC) yesterday said that it does not selectively enforce the law, following criticism that the agency has only monitored elections news on certain TV stations.
The agency on Wednesday said that it had submitted recordings of Television Broadcasts Satellite (TVBS) and CTi TV news programs that aired on Wednesday last week to the Central Election Commission (CEC) after receiving complaints that their coverage of tomorrow's nine-in-one local elections was biased.
A number of media experts then accused the NCC of selectively enforcing the law, saying that it only looked at the election news reported by TVBS and CTi TV without considering that of other news channels.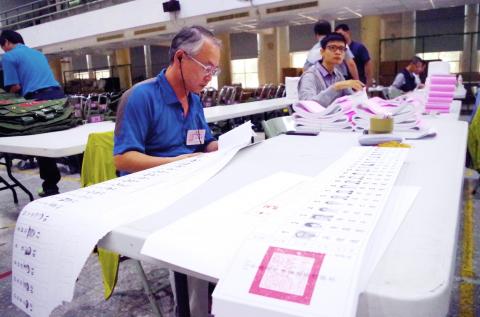 Chiayi County Election Commission officials at Pei Shin Public Junior High School yesterday count ballots that are to be used in tomorrow's elections.
Photo: Wang Shan-yen, Taipei Times
The NCC yesterday said that apart from the two cases announced on Wednesday, it has received complaints about other broadcasts regarding the elections and referendums.
Some of those complaints were about TV commercials produced by groups opposing same-sex marriage, which were accused of using false and discriminatory messaging to mislead the public, it said.
Taiwan Television (TTV) was accused of airing content that is inappropriate for audiences aged six or younger in its broadcast on Nov. 7 of a same-sex marriage referendums debate, in which a gay marriage opponent described his experience as a homosexual, the NCC said.
TVBS and Next TV were accused of providing biased news coverage in their broadcasts of a Taipei mayoral candidates debate on Nov. 11, as they did not air a presentation by National Taiwan University politics professor Lee Si-kuen (李錫錕), who is running as an independent, it said.
Formosa TV was accused of contravening the Civil Servants Election and Recall Act (公職人員選舉罷免法) for broadcasting the results of an opinion poll within 10 days of the election, it added.
Nearly all TV channels have aired commercials produced by opponents of same-sex marriage, which NCC spokesman Wong Po-tsung (翁柏宗) said have all also been submitted to the CEC.
In addition to TVBS and CTi TV, contentious election content broadcast by TTV, Next TV and Formosa TV has also been referred to the CEC, which demonstrates that the NCC has not targeted any TV station specifically, he said.
As the CEC is tasked with enforcing the act, it is to determine whether broadcast content has broken the law, the NCC said.
"As the administrative authority for broadcast media, we hope that the media can cover the election independently, professionally and fairly," the NCC said. "This would help avoid intensifying conflicts between people."
Comments will be moderated. Keep comments relevant to the article. Remarks containing abusive and obscene language, personal attacks of any kind or promotion will be removed and the user banned. Final decision will be at the discretion of the Taipei Times.