'Occupy' lead trio, supporters go on trial in Hong Kong
DEFIANT DEFENDANTS: Benny Tsai said it was not just the nine people who were on trial, but the rule of law and autonomy, as the group decried 'political persecution'
Hong Kong protest leaders who went on trial yesterday for spearheading pro-democracy demonstrations in 2014 said their prosecution threatens the future of civil rights in the territory, where fears have grown of Beijing's growing influence.
"What is on trial is not just the nine of us. What is on trial also is the high degree of autonomy and the rule of law that all Hong Kong people are entitled to," University of Hong Kong law professor Benny Tai (戴耀廷) told a news conference following the first day of the trial.
Tai, along with sociology professor Chan Kin-man (陳健民) and Baptist minister Chu Yiu-ming (朱耀明), were leaders of the "Occupy Central" campaign to press for free elections of Hong Kong's chief executive. They are charged with conspiracy to commit a public disturbance and incitement to commit public nuisance.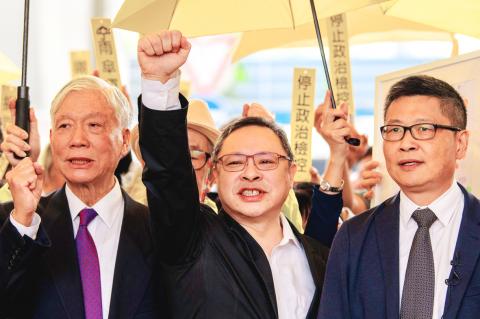 From left, Chu Yiu-ming, Benny Tai and Chan Kin-man shout slogans with supporters before entering the West Kowloon Magistrates Court in Hong Kong yesterday.
Photo: AFP
The other defendants — veteran Democratic Party member Lee Wing-tat (李永達), Legislative Council members Tanya Chan (陳淑莊) and Shiu Ka-chun (邵家臻), activist Raphael Wong (黃浩銘) and former student leaders Eason Chung (鍾耀華) and Tommy Cheung (張秀賢) — face charges of incitement to commit a public nuisance. Each charge carries a maximum penalty of seven years.
"All of us pleaded not guilty because we believe the charges are unreasonable, unconstitutional and unprecedented,'' Chan Kin-man said.
The defendants pumped their fists in the air and chanted "Shame to political prosecution" before entering the West Kowloon Magistrates Court.
They were joined by more than 100 supporters, some raising the yellow umbrellas that came to represent the movement because demonstrators used them to defend themselves from police attacks.
Prosecutor Andrew Bruce detailed in court how the three "Occupy" leaders had given speeches and interviews urging more people to join the "unlawful occupations"
He said this had been a "joint enterprise" to conspire with others to try to fuel the movement for a "prolonged and indefinite" time.
However, lawyers for the defendants questioned the basis for this allegation.
Ranging in age from 30 to 74, the nine defendants span generations of Hong Kong citizens who have been agitating for full democracy.
Additional reporting by staff writer and AFP
Comments will be moderated. Keep comments relevant to the article. Remarks containing abusive and obscene language, personal attacks of any kind or promotion will be removed and the user banned. Final decision will be at the discretion of the Taipei Times.