Taiwan an 'island of hope': forum
Human rights advocates from around the world yesterday gathered at the first Asia-based Oslo Freedom Forum in Taipei to discuss their struggles with suppression and authoritarian regimes, saying that Taiwan could be an "island of hope" for the rest of Asia.
The forum was organized by the New York-based Human Rights Foundation (HRF), with funding from the Taiwan Foundation for Democracy, to bring its experience in Norway since 2009 to Asia to create a regional resource center for people who fight for human rights and freedoms, HRF chief strategy officer Alex Gladstein said.
People living in relatively free countries like Taiwan or the US sometimes take things for granted and forget that there are 4 billion people in the world who do not have access to independent media or judiciaries, Gladstein said.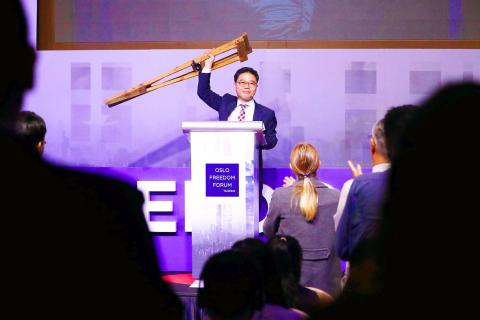 North Korean defector Ji Seong-ho raises his crutches at the Oslo Freedom Forum in Taipei yesterday.
Photo: CNA
"We are here to make a big global reminder that we are lucky and we should not take our rights and freedoms for granted," Gladstein said.
The forum featured nine human rights campaigners and journalists, including Egyptian actor and LGBT rights activist Omar Sharif Jr, Russian dissident Vladimir Kara-Murza, who has survived two assassination attempts, Vietnamese singer and activist Mai Khoi, and Bahraini poet Aayat Alqormozi, who was jailed for reading poems critical of her government at a 2011 Arab Spring rally.
Sharif, who came out as gay in 2012, said he originally thought the revelation of his long-held secret would bring relief, only to be assaulted with an outpouring of hateful messages and death threats, which prompted him to leave his country.
Three years later, Sharif gave his first Arabic-language TV interview "as an open, proud and visible gay man," he said, adding that the interview was viewed by about 24 million people.
Sharif said he had prepared himself for another "onslaught of hate," but instead he received an unexpectedly strong wave of support after the interview, which made him believe that stories hold strength and that his story could help others feel less alone.
"After nearly being drowned in a sea of hatred, I now stand on an island of hope. Taiwan has an opportunity to prove that love will conquer hate," he said.
Just two weeks before Taiwanese are to vote in five referendums that could determine the nation's stance toward legalizing same-sex marriage, Sharif urged people to vote so that LGBT people "will finally count."
China's persecution of Muslim Uighurs was also a focus of the forum.
BuzzFeed News international correspondent Megha Rajagopalan said that China has systematically established a high-tech police state in Xinjiang that made nearly every aspect of ordinary life impossible for Uighurs, holding 1 million people at re-eduction camps and subjecting millions of others to surveillance, calling the region an "open-air prison."
As China has made its surveillance technology cheaper and more accessible, authorities in Ecuador have also installed facial recognition cameras to help "fight crime," a situation that is also spreading to places like Zimbabwe, Ethiopia and Malaysia, Rajagopalan said.
She concluded her speech with a soul-searching question asked by a female Uighur refugee she once interviewed who has to live with the guilt of leaving her two children behind because the Chinese regime has threatened to place her in a re-education camp if she ever returned.
"Does the rest of the world care enough to act on this?" she asked. "Do we?"
Another speaker at the forum was North Korean defector Ji Seong-ho, who in 2006 escaped his famine-plagued country after seeing his grandmother die of starvation, and losing a hand and a leg while trying to steal coal to trade for food from a train cart.
"After giving my father a hug and agreeing that we should try to see each other soon, I fled my country through the Tumen River that borders China. I nearly drowned several times, after which I walked 10,000km across China to Laos, Burma and Thailand with the support of a pair of crutches," he said.
Ji said that he learned after arriving in South Korea that his father had been tortured to death by North Korean secret police following a failed escape attempt.
Ji later established an organization in the hope of changing the situation in North Korea and has so far helped 340 North Korean women who fell victim to human trafficking.
Holding high the crutches that his father had made that helped his escape, Ji said: "These crutches symbolize my journey to freedom and my unwillingness to give up... I would do my best from where I stand to bring freedom to North Korea."
Comments will be moderated. Keep comments relevant to the article. Remarks containing abusive and obscene language, personal attacks of any kind or promotion will be removed and the user banned. Final decision will be at the discretion of the Taipei Times.