Pentagon to send troops to southern border
The administration of US President Donald Trump is to dispatch 800 or more active-duty troops to the border with Mexico as a caravan of thousands of migrants makes its way north.
US Secretary of Defense James Mattis was expected to sign an order sending the troops to the border, bolstering US National Guard forces already there, a US official said on Thursday.
The action comes as Trump has spent recent days calling attention to the caravan of Central Americans making their way into southern Mexico.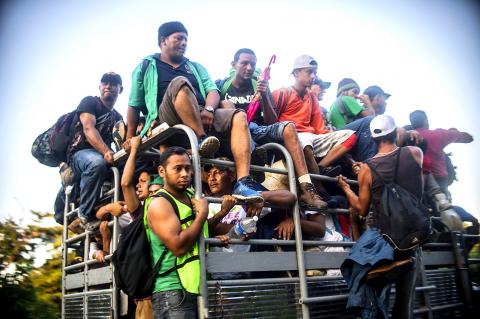 Honduran migrants pack the back of a truck in Chiapas State, Mexico, on Thursday.
Photo: AFP
"Democrat inspired laws make it tough for us to stop people at the border," Trump tweeted on Thursday, adding that he was using the military to respond to a "National Emergency."
Trump also urged those on the road to return home.
"To those in the Caravan, turnaround," he wrote. "We are not letting people into the United States illegally. Go back to your Country and if you want, apply for citizenship like millions of others are doing!"
The additional troops would provide logistical and other support to border patrol personnel, said the official, who spoke on condition of anonymity with the plan yet to be formally announced as of press time last night.
It is not unusual for the National Guard to help with border security.
The additional members of the military would assist Border Patrol by providing things such as vehicles, tents and equipment.
There were already about 2,000 National Guard troops there under a previous Pentagon arrangement.
The migrants in the caravan — once estimated by the UN to number more than 7,000 — are hoping to make it to the US, mostly from Honduras, where they say poverty and violence has forced them out.
Kansas Secretary of State Kris Kobach raised the issue of the caravan in his campaign for state governor, suggesting that lax state immigration policies were helping to lure them north.
Kobach has made enacting state policies against illegal immigration a cornerstone of his campaign.
During a debate in the southwest Kansas town of Garden City, Kobach said that the state provides US$377 million per year in welfare benefits and other services to immigrants living in the state illegally.
"Policies like that are why we have a caravan marching north to come to the United States, because we give out the goodies as soon as you come across the border," Kobach said.
However, new arrivals face long waits at the border with Mexico.
Many migrants in Tijuana have been there for months.
"We are nervous, but happy, because — so many days waiting," said 22-year-old Maria Yuliza Soreque, whose turn came on Tuesday to enter the US after she, her mother and two-year-old daughter had been in the city for five weeks.
It is a waiting game that plays out each day in Tijuana, giving a glimpse of what the migrants in the caravan could face if they reach the border, probably weeks from now at the earliest.
At border crossings in Texas, asylum seekers camp at the midpoints of bridges connecting the two countries, waiting for days for US border inspectors to say their turn has come.
In Tijuana, the wait is more than a month, giving rise to an informal take-a-number system apparently run by volunteers who are themselves asylum seekers.
The system spares migrants from having to wait in line or sleep in the open.
Comments will be moderated. Keep comments relevant to the article. Remarks containing abusive and obscene language, personal attacks of any kind or promotion will be removed and the user banned. Final decision will be at the discretion of the Taipei Times.