Air pollution to worsen over the weekend: EPA
HEALTH WARNING: The agency said that people should avoid the outdoors as Academia Sinica has an open day and Taipei has its annual gay pride parade
The air quality over the weekend is forecast to reach harmful levels, as strong northeasterly winds are to carry pollutants from China, the Environmental Protection Administration (EPA) said yesterday, advising people to avoid outdoor activities.
The warning came on the eve of several large activities in Taipei, including Academia Sinica's annual open house event with more than 300 scientific activities on the campus and the annual LGBTQ parade that is to start on Ketagalan Boulevard.
Of the nation's 77 air-quality monitoring stations, 25 displayed "orange" warnings of unhealthy conditions for sensitive groups as of 5pm yesterday, mostly in central and southern regions, as well as Kinmen and Lienchiang counties, EPA data showed.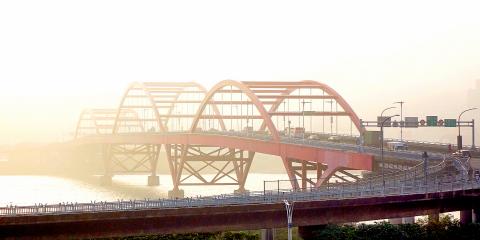 Smog obscures views of Guandu Bridge, the Tamsui River and New Taipei City's Bali District on Dec. 26 last year.
Photo: Chu Pei-hsiung, Taipei Times
However, air quality across the nation might worsen with autumn's first smog from China forecast to affect the nation tomorrow, the agency said.
The hourly concentrations of PM2.5 — inhalable particles measuring 2.5 micrometers or less — might reach between 40 and 60 micrograms per cubic meter tomorrow, causing monitoring stations to display "orange" or "red" warnings, with the latter meaning conditions are unhealthy for all groups, the agency said.
If the smog moves southward as predicted, central and southern Taiwan might have poorer air quality from tomorrow afternoon, when strong winds could raise dust from plains and riverbeds, causing local PM10 concentrations to rise, EPA Department of Environmental Monitoring and Information Management Director-General Chang Shuenn-chin (張順欽) said.
Wind speeds in coastal regions might reach 10 meters per second with northeasterly monsoon winds and Typhoon Yutu approaching, Chang said, adding that dust pollution in central and southern regions might last until Wednesday next week.
To mitigate the effects of air pollution, the EPA has ordered Taiwan Power Co (台電) to curtail emissions at its coal-fired Taichung Power Plant and Kaohsiung's Sinda Power Plant for the next few days, while large factories, construction sites and restaurants are required to cut pollution as necessary.
Sensitive groups, such as elderly people and children, should avoid outdoor activities, and if that is not possible, they are advised to wear masks, the EPA said.
Comments will be moderated. Keep comments relevant to the article. Remarks containing abusive and obscene language, personal attacks of any kind or promotion will be removed and the user banned. Final decision will be at the discretion of the Taipei Times.