Ex-US general says war with China likely in 15 years
The former commanding general of the US Army in Europe on Wednesday said it is very likely that the US will be at war with China in 15 years.
Retired lieutenant general Ben Hodges said that European allies would have to do more to ensure their own defenses in the face of a resurgent Russia, because the US would need to focus more attention on defending its interests in the Pacific Ocean.
"The United States needs a very strong European pillar. I think in 15 years — it's not inevitable — but it is a very strong likelihood that we will be at war with China," Hodges told a packed room at the Warsaw Security Forum, a two-day gathering of leaders, and military and political experts from central Europe.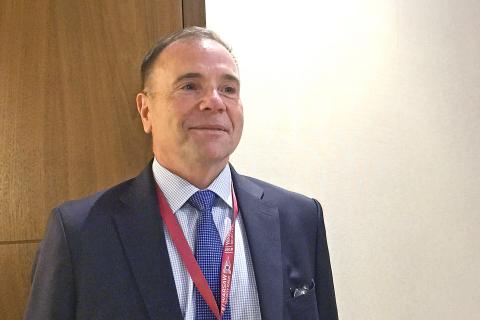 Retired US lieutenant general Ben Hodges speaks to reporters on Wednesday on the the sideline of the Warsaw Security Forum in the Polish capital.
Photo: AP
"The United States does not have the capacity to do everything it has to do in Europe and in the Pacific to deal with the Chinese threat," he said.
Hodges commanded the US Army in Europe from 2014 until last year; he now is a strategic expert with the Center for European Policy Analysis in Washington.
Despite Washington's shifting geopolitical priorities, Hodges said that the US' commitment to NATO remains "unshakable."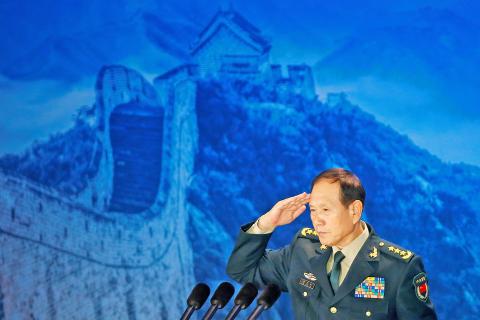 Chinese Minister of National Defense General Wei Fenghe salutes after addressing the Xiangshan Forum in Beijing yesterday.
Photo: Reuters
Hodges later told reporters that a recent near-miss between a US Navy destroyer and a Chinese warship in the South China Sea was only one of the signs pointing to "an increasingly tense relationship and increasing competition in all the different domains."
Others are China's "constant stealing of technology" and how China is gaining control of infrastructure by funding projects in Africa and Europe, he said, noting that China owns more than 10 percent of the ports in Europe.
In Beijing, Chinese Minister of National Defense General Wei Fenghe (魏鳳和) yesterday warned that any effort to challenge China's authority over Taiwan was "extremely dangerous."
"Taiwan is China's core interest. On these issues, it's extremely dangerous to challenge China's bottom line repeatedly. If anyone tries to separate Taiwan from China, China's military will take action at all costs," he at the start of the Beijing Xiangshan Forum, a regional military gathering.
He also called on US leaders to drop what he said was a "Cold War mentality."
Wei, who met with US Secretary of Defense James Mattis on Friday last week at the Shangri-la Dialogue in Singapore, said military facilities were needed to protect Chinese interests in the South China Sea.
"The South China Sea situation is stabilizing, which proves that all countries can take care of their own affairs," Wei said.
"China opposes countries that come to the South China Sea from outside of the region in the name of freedom of navigation to show force and provoke, which leads to rising tensions," he said.
Destroyers from US and Chinese navies nearly collided in the area last month during a US "freedom-of-navigation operation" to challenge what it says are illegal territorial claims by China and its neighbors.
Wei said China had no interest in engaging in an arms race.
He also denounced claims by US President Donald Trump's administration that the Chinese government was attempting to meddle in the US midterm elections, saying the accusations had "severely damaged" ties.
"It has been proven that a hegemonic and confrontational security model is outdated," Wei said. "The world shouldn't repeat the Cold War. All countries should respect each other's sovereignty, security and development rights."
Comments will be moderated. Keep comments relevant to the article. Remarks containing abusive and obscene language, personal attacks of any kind or promotion will be removed and the user banned. Final decision will be at the discretion of the Taipei Times.