Mystery deepens with phone calls, 'body double' reports
A man appearing to wear Jamal Khashoggi's clothes left the Saudi consulate in Istanbul following his killing there, according to a surveillance video, while a member of Saudi Crown Prince Mohammed bin Salman's entourage made four calls to the royal office at about the same time, reports said yesterday.
The reports by CNN and a pro-government Turkish newspaper came just a day before Prince Mohammed's high-profile investment summit is to begin in Riyadh and Turkish President Recep Tayyip Erdogan has promised that details of Khashoggi's killing "will be revealed in all its nakedness."
That yet again adds to the pressure Saudi Arabia faces over the slaying of the Washington Post columnist.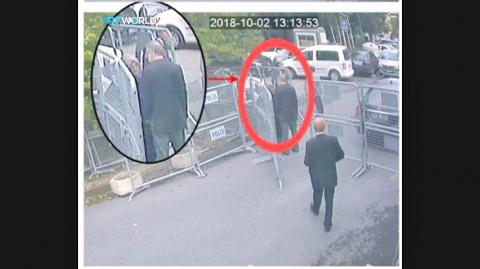 An image taken from survellience video obtained by the Turkish broadcaster TRT World and made available on Sunday purportedly shows Saudi journalist Jamal Khashoggi talking to his fiancee, Hatice Cengiz, seen in expanded view, before entering the Saudi consulate in Istanbul on Oct. 2.
Photo: Reuters / TRT World
The kingdom's claim on Saturday that Khashoggi died in a "fistfight" met international skepticism and allegations of a cover-up to absolve the 33-year-old crown prince of direct responsibility.
Turkish media reports and officials maintain that a 15-member Saudi team flew to Istanbul on Oct. 2, knowing Khashoggi would arrive for a document he needed to get married; the team accosted Khashoggi inside the consulate, cut off his fingers, killed and dismembered the 59-year-old.
CNN yesterday aired surveillance footage showing the man in Khashoggi's dress shirt, suit jacket and pants.
It cited a Turkish official as describing the man as a "body double" and a member of the Saudi team sent to Istanbul to target the writer.
The man is seen in the footage walking out of the consulate via its back exit with an accomplice, then taking a taxi to Istanbul's Sultan Ahmed Mosque, where he went into a public bathroom, changed back out of the clothes and left.
The state-run broadcaster TRT later also reported that a man who entered the consulate building was seen leaving the building in Khashoggi's clothes.
A separate report by newspaper Yeni Safak said Maher Abdulaziz Mutreb, a member of Prince Mohammed's entourage on trips to the US, France and Spain this year, made the calls from the consulate.
The paper said the four calls went to Bader al-Asaker, the head of Prince Mohammed's office, while went to the US.
Yeni Safak cited no source for the information, but pro-government newspapers have been leaking information about Khashoggi's killing, apparently with the help of Turkish security forces.
Meanwhile, Saudi state media reported that Prince Mohammed and King Salman made calls to Khashoggi's son, Salah, early yesterday morning and expressed their condolences for his death.
A Saudi friend of Jamal Khashoggi who was in frequent touch with him before his death said that Salah Khashoggi had been barred from leaving the kingdom since last year as a result of his father's criticism of the government.
Comments will be moderated. Keep comments relevant to the article. Remarks containing abusive and obscene language, personal attacks of any kind or promotion will be removed and the user banned. Final decision will be at the discretion of the Taipei Times.