China shows 'true colors' in Interpol rejection, Lai says
Chinese oppression is to blame for Interpol's rejection of the nation's bid to participate in its general assembly, Premier William Lai (賴清德) said yesterday, and urged Taiwanese to take a good look at China's "true colors."
Lai made the remarks on the sidelines of a question-and-answer session at the Legislative Yuan in Taipei in response to media queries on the issue.
Interpol's rejection came on Wednesday after the Criminal Investigation Bureau last month sent a letter asking for permission to participate as an observer at Interpol's general assembly, which opens on Nov. 16 in Dubai, United Arab Emirates.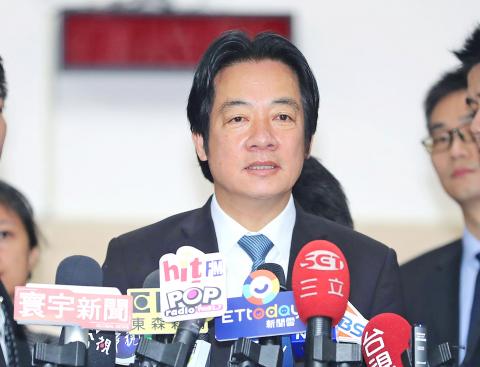 Premier William Lai speaks to reporters at the Legislative Yuan in Taipei yesterday concerning China's oppression of Taiwan in the nation's bid to participate in Interpol's general assembly.
Photo: CNA
The Ministry of Foreign Affairs on Thursday said that Interpol's General Secretariat issued a letter stating that it would not invite the nation to the assembly.
Asked whether there would still be a possibility to join if the government continues expressing its desire to participate, Lai said he did not think that Beijing would stop oppressing Taiwan.
"Interpol's rejection of Taiwan's bid to join does not make any sense, but we know that the main reason behind that decision is Chinese oppression," he said.
"We hope that the public will have a good look at China's true colors when dealing with Taiwan. Even when it is giving you small favors, its intent to annex Taiwan will never change," he added.
Interpol's rejection of the nation's participation would also create a loophole in international efforts to fight crime, Lai said.
"Taiwan should not be absent from international efforts that are being made to crack down on human trafficking, drug smuggling and countering terrorism," he said. "China's willful bullying of Taiwan is not supported by any reasoning whatsoever, and neither is Interpol's rejection."
Comments will be moderated. Keep comments relevant to the article. Remarks containing abusive and obscene language, personal attacks of any kind or promotion will be removed and the user banned. Final decision will be at the discretion of the Taipei Times.