Australia hesitates as proposal to move Israel embassy to Jerusalem draws fire
ELECTIONEERING: Critics questioned the timing of the announcement as the Liberal candidate in a constituency with a sizeable Jewish population is trailing in the polls
Facing a domestic backlash and the threat of foreign trade retaliation, Australian Prime Minister Scott Morrison yesterday appeared to slow-peddle a controversial decision to move the nation's embassy in Israel to Jerusalem, saying he would first consult with allies.
As Morrison stood accused of ditching 70 years of Australian foreign policy and reports emerged that Indonesia might suspend a planned bilateral trade deal, the prime minister told parliament no firm decision had been taken.
Hours after first floating the idea, Morrison said he would "canvass views" from regional leaders about the decision to follow US President Donald Trump's lead and move the embassy from Tel Aviv "before the government forms a particular view on this issue."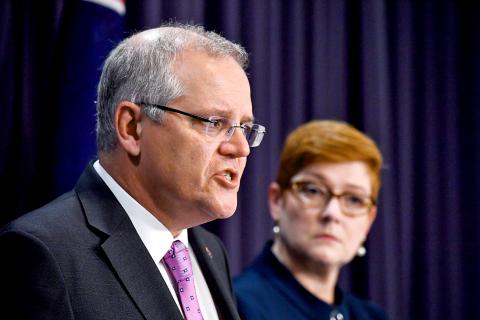 Australian Prime Minister Scott Morrison, left, speaks to the media alongside Minister for Foreign Affairs Marise Payne at a press conference at Parliament House in Canberra yesterday.
Photo: EPA
Jerusalem is claimed by both Israelis and Palestinians. Most foreign nations have avoided locating embassies there for fear of prejudging peace talks on the city's final status — until Trump unilaterally moved the US embassy there earlier this year.
Officials said the decision to move the Australian embassy has been under consideration for months, but Morrison's announcement was timed to coincide with a make-or-break moment for his fledgling leadership.
Voters in a key Sydney electorate are to go to the polls on Saturday, with Morrison's Liberal party candidate, a former ambassador to Israel, trailing in the final stretch.
Defeat for Morrison's candidate — in a constituency with a sizeable Jewish population — would spell the end of his government's parliamentary majority and a bleak future for his months-old stint at the top of Australia's rough-and-tumble political heap.
Although Israeli Prime Minister Benjamin Netanyahu hailed Morrison's initiative, the response from Indonesia was less welcoming.
Indonesian Minister of Foreign Affairs Retno Marsudi said the government questions the merits of Morrison's announcement and has conveyed its "strong concern."
"Indonesia has asked Australia and other countries to continue to support the Palestinian-Israeli peace process in accordance with the principles agreed upon and not take steps that could threaten the peace process itself and threaten the stability of world peace,'' she said.
Australia would be "violating international law" and UN security council resolutions if it proceeded with the embassy move, said Palestinian foreign minister Riyad al-Maliki, who was in Jakarta on an official visit.
"Australia is risking [its] trade and business relationship with the rest of the world and particularly the Muslim world," he added.
"I hope that Australia would reconsider that decision before it takes such action for election purposes," he said.
Comments will be moderated. Keep comments relevant to the article. Remarks containing abusive and obscene language, personal attacks of any kind or promotion will be removed and the user banned. Final decision will be at the discretion of the Taipei Times.