Saudi Arabia rejects murder claims over missing journalist
Saudi Arabia yesterday dismissed accusations that Jamal Khashoggi was ordered murdered by a hit squad inside its Istanbul, Turkey, consulate as "lies and baseless allegations," as Riyadh and Ankara spar over the missing journalist's fate.
A Saudi Arabian delegation was in Turkey for talks on the case, which threatens not only to harm fragile relations between the two countries, but also to do serious damage to the reformist credentials of Saudi Arabian Crown Prince Mohammed bin Salman and the kingdom's ties to the West.
As the controversy intensified, the Washington Post reported that Turkish officials had recordings made from inside the building that allegedly proved their claims that Khashoggi was tortured and killed at the consulate.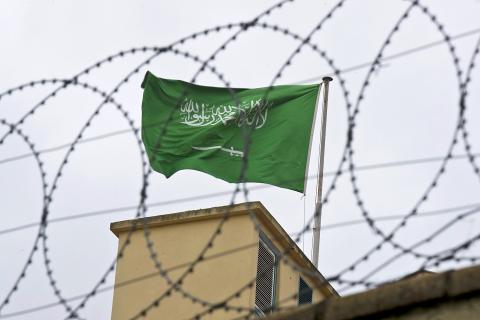 A Saudi Arabian flag is pictured behind barbed wire surrounding the Saudi Arabian consulate in Istanbul, Turkey, yesterday.
Photo: AP
Big media and business names have already canceled appearances at a major conference in Riyadh this month, and both the IMF managing director and the US secretary of the treasury made their attendance conditional on the findings in the case.
In the first ministerial reaction from Saudi Arabia to Turkish accusations that Khashoggi was killed, Saudi Arabian Minister of the Interior Prince Abdel Aziz bin Saud bin Nayef condemned "what has been reported in certain media concerning false accusations against Saudi Arabia ... in the case of the disappearance of citizen Khashoggi."
"What has been reported on the matter of orders to kill him is a lie and a baseless allegation," the minister said in comments carried by the state-run Saudi Press Agency.
Saudi Arabian journalist and Washington Post contributor Khashoggi vanished on Oct. 2 after entering the consulate to obtain documents for his upcoming marriage.
The Saudi Arabian delegation, whose composition was not immediately clear, is expected to meet with Turkish officials in Ankara over the weekend, state media said on Friday.
It is likely that they would take part in a joint working group on the case, whose creation was announced on Thursday by Turkish presidential spokesman Ibrahim Kalin following a request by Saudi Arabia.
A Saudi Arabian official source quoted by Saudi Press Agency said it was "a positive move" that Turkey had agreed to the creation of what it described as a "joint action team."
Ankara has so far stopped short of accusing Saudi Arabia, although pro-government media have published sensational claims, including that an "assassination team" was sent to Istanbul to kill Khashoggi.
Turkish President Recep Tayyip Erdogan has challenged Saudi Arabia to provide CCTV images to back up its account that Khashoggi left the consulate safely.
Pro-government Turkish newspaper Sabah said officials wanted to search the building with luminol, a chemical that allows forensic teams to discover blood traces, but Saudi Arabia had so far refused.
Officers were looking into sound recordings sent from a smart watch Khashoggi was wearing when he entered the consulate to a mobile phone that he gave to his Turkish fiancee, Hatice Cengiz, who was waiting outside.
Turkish daily Milliyet reported "arguments and shouting" could be heard on the recordings.
Comments will be moderated. Keep comments relevant to the article. Remarks containing abusive and obscene language, personal attacks of any kind or promotion will be removed and the user banned. Final decision will be at the discretion of the Taipei Times.