UK seeks explanation after HK bans journalist
Hong Kong's decision to effectively blacklist a senior Financial Times journalist required an "urgent explanation," the UK said yesterday, as foreign governments sounded the alarm over eroding freedoms in the former British colony.
Victor Mallet, the Financial Times' Asia news editor and a British national, earned the ire of authorities for hosting a speech by Andy Chan (陳浩天), the leader of a pro-Hong Kong independence political party.
Chan attacked China as an empire trying to "annex" and "destroy" Hong Kong in a speech at the city's Foreign Correspondents' Club, where Mallet serves as vice president.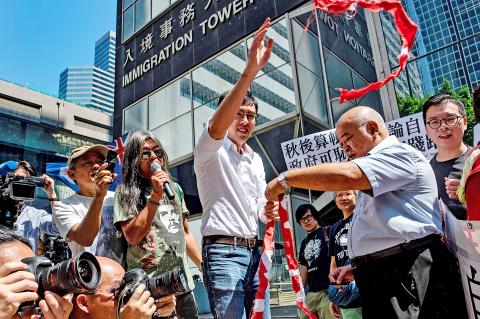 Pro-democracy advocate Avery Ng, center, tears a symbolic "political red line" at a protest outside an immigration building in Hong Kong yesterday.
Photo: AFP
The Chinese Ministry of Foreign Affairs had asked the club to pull the talk, but the club refused, saying that all sides of a debate should be heard.
Rival protesters picketed the lunchtime event and former Hong Kong chief executive Leung Chun-ying (梁振英) called for the club to be evicted from its premises, which the government owns.
Hong Kong authorities last week banned Chan's Hong Kong National Party, calling it a threat to national security.
It was the first ban on a political party since the territory reverted to Chinese control in 1997.
The Financial Times on Friday said that immigration authorities in Hong Kong had declined to renew Mallet's visa, a decision that rights groups and media organizations said was unprecedented.
"We have asked the Hong Kong government for an urgent explanation," the UK Foreign and Commonwealth Office said in a statement.
"Hong Kong's high degree of autonomy and its press freedoms are central to its way of life and must be fully respected," it said.
The US consulate in Hong Kong said that Mallet's visa denial was "especially disturbing."
Demonstrators yesterday morning rallied outside Hong Kong's immigration department to protest the decision.
"No political red line. We support free press," protesters chanted as they shredded a strip of red fabric to create a long ribbon.
The slogan was in response to comments by Leung, who once said discussion of independence "is an absolute and clear red line."
Comments will be moderated. Keep comments relevant to the article. Remarks containing abusive and obscene language, personal attacks of any kind or promotion will be removed and the user banned. Final decision will be at the discretion of the Taipei Times.