Murad, Mukwege win peace prize
Congolese doctor Denis Mukwege and Nadia Murad, a former captive of the Islamic State and now global advocate against sexual violence, were awarded the Nobel Peace Prize for their work against sexual violence.
The prize was awarded for "their efforts to end the use of sexual violence as a weapon of war and armed conflict," the Oslo-based Norwegian Nobel Committee said in a statement yesterday.
"Both laureates have made a crucial contribution to focusing attention on, and combating, such war crimes," it said.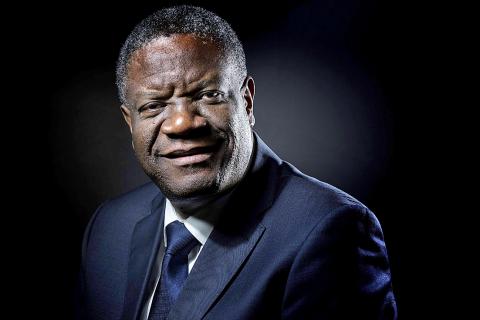 Congolese gynecologist Denis Mukwege poses for photographers in Paris on Oct. 24, 2016. Mukwege was awarded the Nobel Peace Prize yesterday for his work fighting sexual violence.
Photo: AFP
Mukwege, 63, is the medical director of Panzi Hospital in Bukavu, the capital of South Kivu Province in the Democratic Republic of the Congo (DR Congo), which has been blighted by more than two decades of conflict.
He founded Panzi in 1999, a year after a war erupted between the DR Congo and Rwanda that eventually spread to engulf half a dozen African nations.
The hospital offered obstetric care and treatment for severe gynecological problems. Among its patients are victims of sexual violence, a hallmark of the DR Congo's conflict.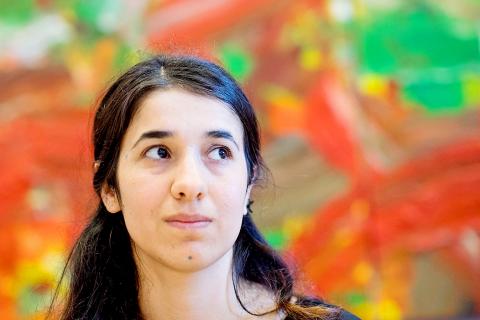 Nadia Murad poses for photographers in Hanover, Germany, on May 31, 2016. Murad was awarded the Nobel Peace Prize yesterday for her work fighting sexual violence.
Photo: AFP
Murad, a member of the Yazidi minority in Iraq, was captured by the Islamic State group as it overran villages in Sinjar District.
The Nobel committee said that several hundred people were massacred in Murad's village, while she was captured and repeatedly subjected to rape and other abuses.
She escaped after three months and has since become a global spokeswoman on sexual-violence issues.
In 2016, she was named the UN's first Goodwill Ambassador for the Dignity of Survivors of Human Trafficking.
There were 331 candidates for the Nobel Peace Prize this year, including 216 individuals and 115 organizations. The Norwegian Nobel Institute does not disclose the names of nominees until 50 years have past.
Comments will be moderated. Keep comments relevant to the article. Remarks containing abusive and obscene language, personal attacks of any kind or promotion will be removed and the user banned. Final decision will be at the discretion of the Taipei Times.