Shenao future contingent on LNG plant: Lai
EIA DETERMINER: The premier said that the state is responsible for stable power supply and reducing pollution, and the Shenao plant was designed for this
The government would re-evaluate plans for the proposed Shenao thermal power plant if a third liquefied natural gas (LNG) terminal in Taoyuan's Guantang Industrial Park (觀塘工業區) passes an environmental impact assessment (EIA), Premier William Lai (賴清德) said yesterday.
Lai made the statement at the Legislative Yuan in Taipei during a question-and-answer session with Democratic Progressive Party (DPP) Legislator Lo Chih-cheng (羅致政), who asked Lai whether the plan to build the Shenao plant, which passed an EIA in New Taipei City, could be further deliberated, as it seems to run counter to the government's goal of cutting carbon dioxide emissions.
The proposed LNG terminal plays an important role in the government's Nuclear-Free Homeland policy, which seeks to reduce the percentage of electricity generated by coal-fired power plants from more than 40 percent currently to 30 percent and to boost electricity generated by natural gas from about 35 percent to 50 percent by 2025, Lai said.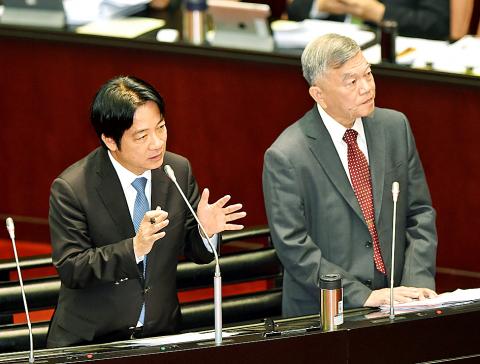 Premier William Lai, left, speaks at a question-and-answer session at the Legislative Yuan in Taipei yesterday.
Photo: Fang Bin-chao, Taipei Times
If the plan for the LNG terminal passes an environmental review and can satisfy power needs, the Ministry of Economic Affairs would have to overhaul its LNG power generation policy and re-evaluate the necessity of the Shenao plant, Lai said, adding that the Executive Yuan would approve such a move.
The government has a responsibility to ensure stable power supply and reduce air pollution, and the Shenao plant was designed based on these goals, he said.
Supercritical steam generators, as well as systems for advanced cleaning and to control pollution, would keep the emissions from Shenao at approximately the level of a natural gas plant, he said.
The Shenao plan has been around for two government transitions and has been supported by the Democratic Progressive Party (DPP) and the Chinese Nationalist Party (KMT), Lai said.
It is regrettable that an issue that is intrinsically neutral has been politicized and stigmatized by some with misleading images, he said, referring to an online campaign advertisement by KMT New Taipei City mayoral candidate Hou You-yi (侯友宜), in which Hou, an opponent of the plant, used images of a Russian steel plant spewing fumes when alluding to the proposed Shenao plant.
The Shenao plan passed its initial EIA in 2005, before the original plant was mothballed in 2007 and demolished in 2011. The new plant is to have supercritical steam generators, which would have an output capacity of 1.6 million kilowatts.
Comments will be moderated. Keep comments relevant to the article. Remarks containing abusive and obscene language, personal attacks of any kind or promotion will be removed and the user banned. Final decision will be at the discretion of the Taipei Times.