Bill would require drunk drivers to pay lecture costs
The Executive Yuan yesterday approved draft amendments to the Road Traffic Management and Penalty Act (道路交通管理處罰條例), including a proposed amendment that seeks to have drunk drivers — instead of the government — pay for the compulsory road safety lectures they are required to attend.
People found guilty of drunk driving must attend 12 hours of lectures on road safety over two days, Department of Railways and Highways Director-General Chen Wen-juei (陳文瑞) told a news conference at the Executive Yuan in Taipei.
The proposal would grant authorities the right to have drunk drivers pay the cost of the lectures, he said, adding that the department hopes to deter driving under the influence through the legislation.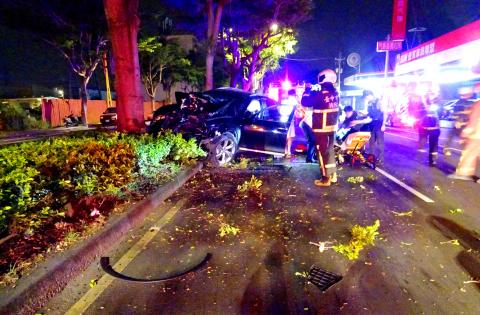 Firefighters and police officers attend the scene of a drunk driving accident on Monday in Taichung after the driver, surnamed Shen, collided with a tree. The driver was taken to a hospital.
Photo: Chen Chien-chih, Taipei Times
Asked how much offenders would have to pay for the lectures, Deputy Minister of Transportation and Communications Wang Kwo-tsai (王國材) said what matters more is the spirit of the bill, which is to ensure fairness by having people who disobey the law pay for their offenses instead of taxpayers.
Statistics published yesterday by the Ministry of Transportation and Communications showed that the nation last year spent NT$31.58 million (US$1.03 million) on mailing notices to offenders and road safety instructors.
However, as some lectures are administered by the government, while others are outsourced, the cost would be determined after taking all expenses into account, the ministry said.
Also approved yesterday was a draft amendment that seeks to change the definition of aggravated speeding from 60kph over the speed limit to 40kph.
Drivers who engage in aggravated speeding would be fined NT$6,000 to NT$24,000, Chen said.
Another proposal suggests removing the rule that allows people without driver's licenses to ride light scooters — defined as scooters with an engine displacement of up to 50cc.
People who contravene the rule would be fined NT$1,800 to NT$3,600.
The draft amendments are to be delivered to the Legislative Yuan for review.
Comments will be moderated. Keep comments relevant to the article. Remarks containing abusive and obscene language, personal attacks of any kind or promotion will be removed and the user banned. Final decision will be at the discretion of the Taipei Times.