Hong Kong bans pro-separatist National Party
Authorities in Hong Kong yesterday took an unprecedented step to quash separatist voices by banning a political party that advocates independence for the territory on national security grounds.
Hong Kong Secretary for Security John Lee (李家超) said that the Hong Kong National Party (HKNP) would be prohibited from operation as of yesterday.
At a briefing, Lee said the party led by 27-year-old Andy Chan (陳浩天) posed a threat to national security because it wants Hong Kong to be an independent republic and has taken steps to push this agenda.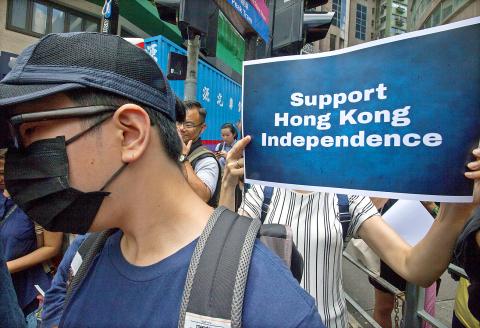 Independence supporters gather near the Hong Kong Foreign Correspondents' Club on Aug. 14 as independence advocate Alan Chan of the Hong Kong National Party gives a talk at the club.
Photo: EPA-EFE
Lee cited as examples alleged plans by the party to recruit members and infiltrate schools to promote its views.
Lee said the party also "spreads hatred and discrimination against mainlanders in Hong Kong."
The HKNP had also said it would not stop at force, Lee added, but he conceded it had never committed violence and that Chan had advocated non-violence.
Chan had no immediate comment on the decision.
The ban cites a national security law that has not been invoked since 1997. It is likely to raise further questions about Beijing's growing influence in the former British colony.
The perception that Beijing is reneging on its promise of semi-autonomy and eroding Hong Kong's free elections and freedom of speech is helping fuel a rising generation of young activists calling for greater autonomy, if not outright independence.
The UK Foreign Office said in a statement that it was "concerned" at the move, noting it was the first such ban since the handover.
"The UK does not support Hong Kong independence, but Hong Kong's high degree of autonomy and its rights and freedoms are central to its way of life, and it is important they are fully respected," it said.
In Beijing, the State Council's Hong Kong and Macau Affairs Office expressed support for the ban, saying in remarks carried by Xinhua news agency that the move was necessary to protect China's national security.
An office spokesman said China fully supported punishing what Xinhua described as "any acts that jeopardize national security,'" and that Beijing has "zero tolerance for any organizations preaching 'Hong Kong independence' or engaging in activities of splitting the country."
Maya Wang (王松蓮), a researcher with Human Rights Watch in Hong Kong, said the ban sets a dangerous precedent.
"The banning of the Hong Kong National Party is a milestone in the Beijing and Hong Kong governments' assault on Hong Kong's freedoms," Wang said.
"This justification sets a dangerous precedent, where more non-violent pro-democracy political groups may be similarly banned,"' Wang wrote in an e-mail.
Additional reporting by AFP
Comments will be moderated. Keep comments relevant to the article. Remarks containing abusive and obscene language, personal attacks of any kind or promotion will be removed and the user banned. Final decision will be at the discretion of the Taipei Times.