ICC 'undeterred' after US' threat of sanctions, charges
The International Criminal Court (ICC) on Tuesday said its work would continue "undeterred" after Washington threatened to prosecute its officials if Americans were charged with war crimes committed in Afghanistan.
"The ICC, as a court of law, will continue to do its work undeterred, in accordance with those principles and the overarching idea of the rule of law," the tribunal said in a statement.
The Hague-based court's response comes a day after the US threatened to arrest and sanction court officials should they move to charge any American who served in Afghanistan with war crimes.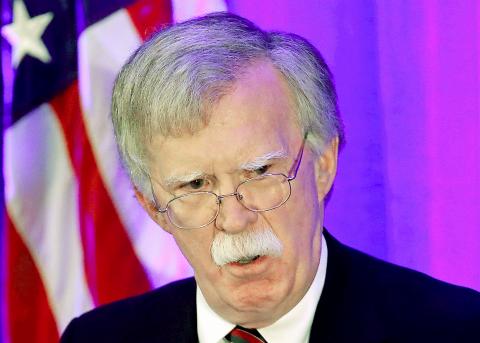 US National Security Adviser John Bolton speaks at a Federalist Society luncheon at the Mayflower Hotel in Washington on Monday.
Photo: AFP
US National Security Advisor John Bolton called the court "unaccountable" and "outright dangerous" to the US, Israel and other allies, saying that any probe of US service members would be "an utterly unfounded, unjustifiable investigation."
"If the court comes after us, Israel or other US allies, we will not sit quietly," Bolton said.
The US was prepared to slap financial sanctions and criminal charges on officials of the court if they proceed against any Americans, he added.
However, in response, the ICC declared itself an "independent and impartial judicial institution."
It also stressed that it would only investigate and prosecute crimes when states would not or could not do so.
The court was set up in 2002 with jurisdiction to investigate and prosecute the world's worst crimes, including genocide, war crimes and crimes against humanity.
However, the court does not have the capacity to arrest suspects and depends on member states for their cooperation.
The US has not signed up to the court and in 2002, the US Congress passed a law enabling Washington to invade the Netherlands to liberate any US citizen held by the court.
Comments will be moderated. Keep comments relevant to the article. Remarks containing abusive and obscene language, personal attacks of any kind or promotion will be removed and the user banned. Final decision will be at the discretion of the Taipei Times.