Bachelet takes on China, US and Saudis
VOICE FOR THE VICTIMS: The former Chilean president came out swinging in her first speech as UN human rights boss, decrying the abuse of minorities and migrants
New UN High Commissioner for Human Rights Michelle Bachelet yesterday called on China to allow in monitors after "deeply disturbing" allegations of large re-education camps in which Uighurs are detained in Xinjiang Province.
Her appeal for access came as Human Rights Watch reported that the Turkic, mostly Muslim Uighur minority in Xinjiang face arbitrary detentions, daily restrictions on religious practice and "forced political indoctrination" in a mass security crackdown.
A UN rights panel, the Committee on the Elimination of Racial Discrimination, last month said that it had received credible reports that up to 1 million Uighurs might be being held in extra-legal detention across the province, and called for them to be freed.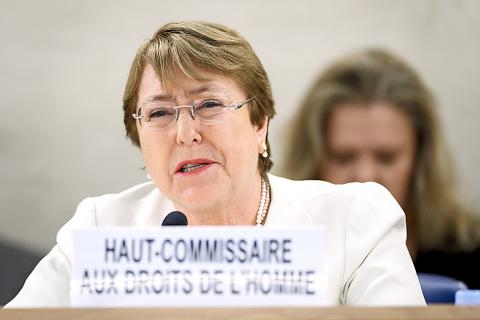 UN High Commissioner for Human Rights Michelle Bachelet addresses the opening of the 39th Council of Human Rights meeting in Geneva, Switzerland, yesterday.
Photo: AFP
China has rejected the allegations of internment camps and accused "external factors" of causing turbulence in the region.
Bachelet, a former Chilean president making her maiden speech to the UN Human Rights Council, said the panel had brought to light "deeply disturbing allegations of large-scale arbitrary detentions of Uighurs and other Muslim communities, in so-called re-education camps across Xinjiang."
Reports had been received of "patterns of human rights violations in other regions," she said.
Bachelet called on the Beijing government to permit access for her staff across China, saying that she expected discussions to start soon.
She promised to be a voice for victims.
"I have been a political detainee and the daughter of political detainees. I have been a refugee and a physician — including for children who experienced torture and the enforced disappearance of their parents," she told the 47-member forum in Geneva.
She also called for a new quasi-judicial body to collect evidence with a view to future prosecution of crimes against Muslim Rohingya in Myanmar, including murder and torture.
An independent UN team of investigators said in a report last month that there was evidence indicating "genocidal intent" by the military against Rohingya and that crimes against humanity and war crimes appear to have been committed.
Bachelet said that attacks and persecution appear to be continuing in Rakhine state, while investigators had also found indications of executions, torture and sexual violence against minorities in Kachin and Shan states.
"The persistence of these patterns of violations underscores the total impunity accorded to the Myanmar security forces," she said.
She also voiced concern that 500 migrant children in the US taken away from their parents have not yet been returned by authorities and decried last week's announcement by US President Donald Trump's administration that it would withdraw from a court agreement limiting detention of migrant children to 20 days.
She announced that she was sending teams to Austria and Italy to look into protection of migrants, and voiced concern over xenophobic speech in Germany.
Bachelet urged the Saudi-led military coalition in Yemen to show greater transparency in its rules of engagement and hold to account perpetrators of air strikes on civilians, including one that hit a bus killing dozens of children in Saada last month.
"I will be closely following what steps are taken to hold the perpetrators accountable and provide remedy and compensation to the victims," she said.
"The recent Saudi royal order which appears to provide a blanket pardon to members of the Saudi armed forces for actions taken in Yemen is very concerning," she said.
Countries are due to respond to her speech today.
Comments will be moderated. Keep comments relevant to the article. Remarks containing abusive and obscene language, personal attacks of any kind or promotion will be removed and the user banned. Final decision will be at the discretion of the Taipei Times.