Race to find survivors after 6.6 quake in Hokkaido
Rescuers yesterday scrabbled through mud for survivors after a powerful earthquake sent hillsides crashing down onto homes in Japan, killing at least nine people and leaving dozens missing.
As many as 30 are feared buried beneath the earth and rubble of multiple large-scale landslides that struck sparsely populated countryside on Hokkaido after a magnitude 6.6 earthquake.
Aerial footage showed wrecked farm buildings at the bottom of a hill as rescue helicopters whirred overhead in a region already affected by the edge of a strong typhoon that ravaged parts of Japan earlier this week.
The aftermath of a landslide triggered by an earthquake is pictured yesterday in Atsuma, Japan.
Photo: EPA
The quake left almost 3 million people without power after damage to a major thermal plant supplying the region, with Japanese Minister of Economy, Trade and Industry Hiroshige Seko saying it could take "at least a week" for supply to be restored.
Long lines formed outside gas stations and supermarkets, as authorities warned that further quakes could be on the way.
"There was a sudden, extreme jolt. I felt it went sideways, not up-and-down, for about two to three minutes," said Kazuo Kibayashi, an official in hard-hit Abira.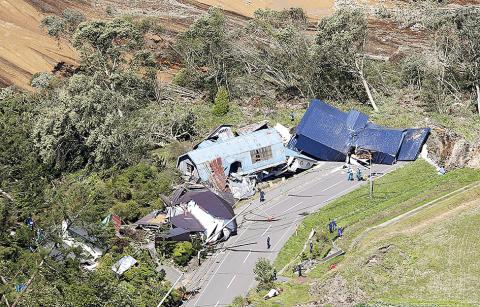 Police search for missing people yesterday in Atsuma, Japan, after an earthquake triggered landslides.
Photo: AP
Japan Broadcasting Corp (NHK) reported that nine people had lost their lives, many of them in the village of Atsuma, where the landslide engulfed their homes.
Thirty-one people were still missing, with about 300 sustaining minor injuries, the broadcaster said.
Moments after the initial quake, which struck 62km southeast of Sapporo, a magnitude 5.3 aftershockrocked the area, with dozens more tremors felt throughout the day.
"We will do our best to save lives," Japanese Prime Minister Shinzo Abe said after an emergency Cabinet meeting.
About 20,000 rescue workers, were responding to the disaster, Japanese Chief Cabinet Secretary Yoshihide Suga said, adding that another 20,000 troops were expected to join the effort.
The quake also caused major transport disruption with all flights canceled from Sapporo's main New Chitose Airport, where the shaking brought down part of a ceiling and burst a water pipe. Buses and trains were also halted.
The Tomari nuclear power plant in Hokkaido, which was not operational before the quake, was forced to turn to emergency backup power to keep its cooling system working, NHK said.
The Japan Meteorological Agency said that more bad weather could be on the way for Hokkaido and urged people to be vigilant for landslides, high tides and heavy rain.
Comments will be moderated. Keep comments relevant to the article. Remarks containing abusive and obscene language, personal attacks of any kind or promotion will be removed and the user banned. Final decision will be at the discretion of the Taipei Times.