Beijing's legal reach extends to HK rail station
Part of a Hong Kong high-speed railway station yesterday formally came under Chinese jurisdiction, an unprecedented move that has raised concerns about the Chinese territory's promised autonomy.
Hong Kong was handed back from British to Chinese rule in 1997 with constitutional guarantees that it would continue to enjoy rights and freedoms not granted in mainland China, including an independent legal system.
Chinese and Hong Kong officials have said that the so-called "co-location" arrangement, including a joint immigration checkpoint, is necessary for passengers' convenience, shrinking rail travel times to mainland cities.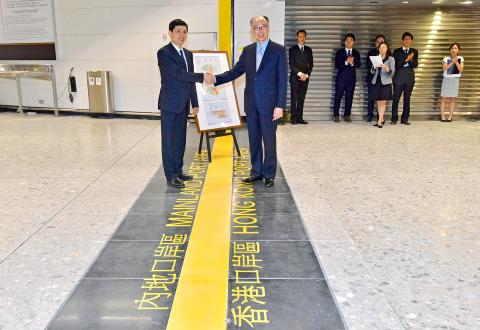 A handout photo taken on Monday and received yesterday from Hong Kong's Government Information Service shows Hong Kong Transport and Housing Secretary Frank Chan Fan, right, handing over the plans of the Mainland Port Area to Shenzhen Municipal People's Government Deputy Secretary-General Yang Xiuyou at a ceremony to mark the commissioning of the Mainland Port Area at the new West Kowloon terminus in Hong Kong.
Photo: AFP / Government Information Service
However, critics, including pro-democracy advocates and an influential lawyers' association, have denounced the move as the most retrograde since 1997, undermining confidence in the territory's vaunted rule of law.
Hong Kong and mainland Chinese officials on Monday night shook hands inside the new station in West Kowloon District to mark the new arrangement, which means that anyone who commits a crime in the "mainland port area" or onboard trains will be subject to mainland laws, that could include the death penalty for serious crimes.
In an unusual move, the media was not notified of the event, but Hong Kong's leader sought to assuage public concerns.
"There was no such thing as a sneaky opening," Hong Kong Chief Executive Carrie Lam (林鄭月娥) said, without explaining why the media was not invited.
The Hong Kong Journalists' Association condemned the government for its secrecy.
"The commissioning of the Mainland Port Area and the stationing of mainland officers at the terminus will bring about profound impacts in Hong Kong," the statement said.
"The government only chose to issue a press release at five minutes after midnight. We condemn such arrangement, which is inappropriate," it said.
One prominent Hong Kong blog, the Big Lychee, dubbed it a "secret underground ritual" for "essentially a handover of territory from Hong Kong to the mainland."
Mainland authorities will conduct customs, immigration and quarantine duties in part of the station, while mainland Public Security Bureau officers would be responsible for "managing public order," the Hong Kong government said in a booklet.
Hong Kong's Security Bureau gave no response to Reuters questions on how many mainland staff would be deployed at the station.
Hong Kong's Ming Pao newspaper put the figure at 700, including 80 public security officers.
Lam said that mainland authorities were not authorized to enforce the law outside the cross-boundary restricted area, and most staff would return to mainland China every day after work, though a few might be required to work overnight shifts.
Tanya Chan (陳淑莊), a pro-democracy lawmaker who leads a "co-location concern group," said Hong Kong had now lost legal oversight over 92,903m2 in the heart of the territory.
"This arrangement is illegal and unconstitutional. This is the darkest day for our judicial independence and the rule of law," Chan told reporters.
Several legal challenges, including a judicial review seeking to bar the project, are pending, despite the station's planned public opening on Sept. 23.
Several other major cross-border infrastructure projects are also expected to be finished this year, including a sea bridge linking Hong Kong to Macau and southern China.
Comments will be moderated. Keep comments relevant to the article. Remarks containing abusive and obscene language, personal attacks of any kind or promotion will be removed and the user banned. Final decision will be at the discretion of the Taipei Times.