Trump calls off N Korea trip, to S Korean concern
South Korea yesterday called the US' decision to call off a trip to North Korea by Secretary of State Mike Pompeo unfortunate and said that continued diplomacy is crucial in resolving the nuclear standoff with Pyongyang.
The statement by the South Korean Ministry of Foreign Affairs came hours after US President Donald Trump directed Pompeo to delay his trip because of what he saw as a lack of progress on nuclear disarmament.
Trump also said the negotiations have been hampered by a lack of support from China.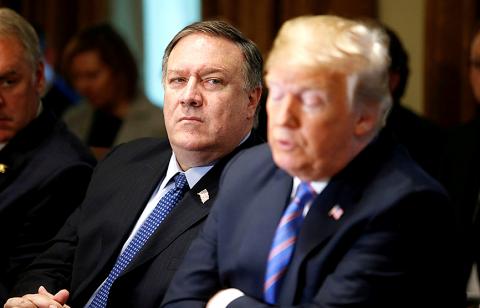 US Secretary of State Mike Pompeo, left, listens as US President Donald Trump speaks during a Cabinet meeting in Washington on July 18.
Photo: Reuters
The Chinese Ministry of Foreign Affairs expressed "serious concern" about the comments, saying in a statement that it has made "stern representations" to US officials and would continue to play a positive role in working toward denuclearization.
Describing the delayed trip as a setback, the South Korean ministry said it is most important for the allies to pursue "substantial progress" on denuclearization.
South Korea expects China to continue serving a "constructive role" in efforts to solve the nuclear crisis, it said, adding that Beijing continues to express commitment to implementing sanctions.
"It's most important to maintain a long-term view while maintaining momentum for dialogue and concentrate diplomatic efforts ... instead of attaching meaning to each change in the situation," the statement said.
South Korean Minister of Foreign Affairs Kang Kyung-hwa spoke with Pompeo by telephone and agreed that the allies should work to keep the atmosphere of dialogue alive, it said.
Additional reporting by Reuters
Comments will be moderated. Keep comments relevant to the article. Remarks containing abusive and obscene language, personal attacks of any kind or promotion will be removed and the user banned. Final decision will be at the discretion of the Taipei Times.