Rohingya demand justice to mark year after attacks
Thousands of Rohingya Muslim refugees yesterday marked the one-year anniversary of the attacks that sent them fleeing to safety in Bangladesh, praying they can return to their homes in Myanmar and demanding justice for their dead relatives and neighbors.
More than 15,000 gathered in the morning on a hilltop in the Kutupalong refugee camp, part of a sprawling web of settlements that are home to nearly 900,000 Rohingya who have fled Myanmar to escape violence.
The camps exploded in size last year, after Myanmar's army launched a wave of anti-Rohingya attacks on Aug. 25, with about 700,000 Rohingya pouring across the border. Thousands were killed in the violence.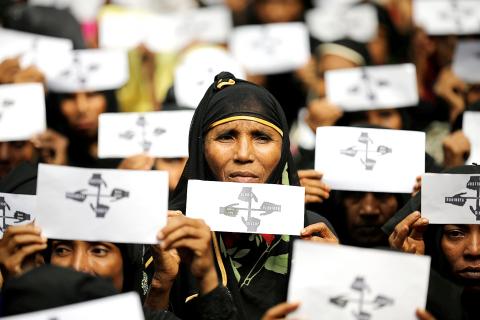 Rohingya refugees protest at the Kutupalong refugee camp in Cox's Bazar, Bangladesh, yesterday to mark the one-year anniversary of their exodus from Myanmar.
Photo: Reuters
A banner at the rally read "25th August — Black Day."
The protesters marched through the muddy camp, chanting slogans such as: "No more genocide, we want justice."
At a mass prayer rally, one speaker repeatedly shouted: "Who are we?" to which the crowd responded in chorus: "Rohingya, Rohingya."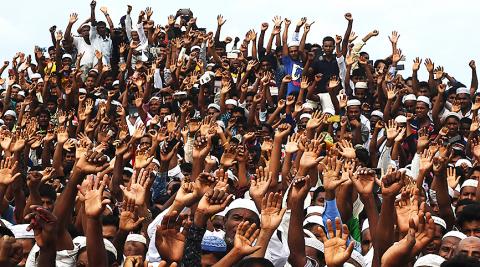 Rohingya refugees yesterday attend a ceremony to remember the first anniversary of a military crackdown that prompted a mass exodus from Myanmar at the Kutupalong refugee camp in Ukhia, Bangladesh.
Photo: AFP
Most people cried as they raised their hands, while an imam who led the prayer sought God's blessings, saying: "Please consider the people who have been killed as martyrs and place them in heaven."
Some of the protesters carried paper flags of Myanmar. Newly set up shops inside the camp were closed during the protest, which lasted several hours.
About 100 protesters from a group of non-governmental organizations formed a human chain in front of the national press club in Dhaka to demand the international community put pressure on the Burmese government to try those responsible for murder, rape and arson, the English-language Daily Star reported.
However, many doubt they will ever be able to return, despite more than a year of talks among Myanmar, Bangladesh, the UN and international aid agencies.
Myanmar says the Rohingya can return and has built a series of camps for them, but few believe they would be safe there or that they could be accepted as citizens.
While Rohingya have lived for centuries in Myanmar, they have long been treated as outsiders, Muslims in a largely Buddhist nation who are denied citizenship and many basic rights.
Over the past couple of decades, more than 100,000 Rohyingya have fled into Bangladesh in earlier waves of violence. In total, more than 1 million Rohingya refugees live in Bangladesh.
In an editorial, the Daily Star said Myanmar has over the past year failed to make any visible progress in taking the refugees back and urged the international community to take action.
"We reiterate our call to the international community, particularly the UN, to investigate allegations of crimes against the Rohingya people, because the Myanmar government has shown little interest in bringing those responsible for such violations of human rights to justice," it said. "It is time to tell the Rohingya that they are not a forgotten people."
Comments will be moderated. Keep comments relevant to the article. Remarks containing abusive and obscene language, personal attacks of any kind or promotion will be removed and the user banned. Final decision will be at the discretion of the Taipei Times.