Pope 'shares sentiments' over abuse on visit to Ireland
Pope Francis yesterday at the start of a visit to Ireland said that he shares the outrage of Catholics over the failure of church authorities to punish the "repugnant crimes" of priests who have molested children.
Seeking to respond to a global outcry over the abuse scandal, Francis cited measures taken by his predecessor, pope Benedict XVI, to respond to the crisis.
However, Benedict never acknowledged the Vatican's role in fueling a cover-up culture and Francis provided no new details of measures to sanction bishops.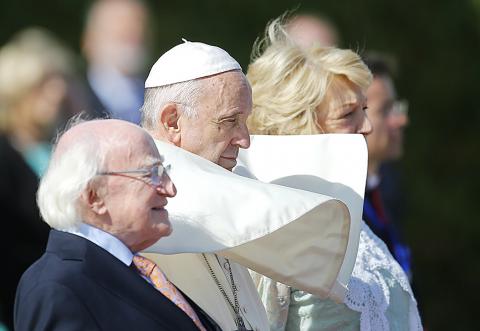 Pope Francis, center, is flanked by Irish President Michael Higgins, left, and his wife, Sabina, after arriving in Dublin yesterday.
Photo: AP
"The failure of ecclesial authorities — bishops, religious superiors, priests and others — to adequately address these repugnant crimes has rightly given rise to outrage and remains a source of pain and shame for the Catholic community," Francis said in a speech to government and civil authorities at Dublin Castle. "I myself share these sentiments."
Adding to his prepared remarks, Francis said that he was committed to ridding the church of the "scourge," no matter the moral cost or amount of suffering.
Francis' trip has been overshadowed by renewed outrage over the Catholic Church's systemic failure to protect children following revelations of sexual misconduct and cover-ups in the US, Chile, Australia and France.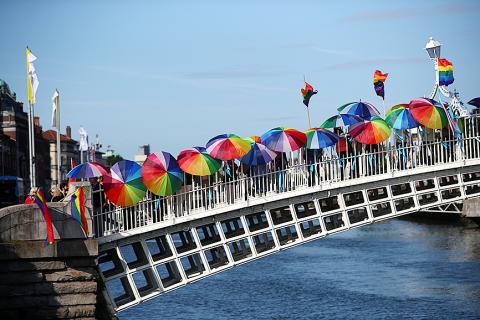 Protesters demonstrate on the Ha'penny Bridge in Dublin yesterday while Pope Francis visits.
Photo: Reuters
Francis was expected to meet with victims during his 36-hour visit to Ireland, but neither his words at the start of his visit nor a new meeting with victims is likely to assuage demands for sanctions.
The reception that Francis received in Dublin contrasted sharply with the raucous welcome that greeted St John Paul II in 1979, the last time a pope visited Ireland.
No one from the public was at the airport or roads nearby, and only a handful of people waited to cheer him outside the Vatican residence.
Ireland has had one of the world's worst records of clergy sex abuse — crimes that were revealed over the past decade by a series of government-mandated inquiries.
The reviews concluded that thousands of children were raped and molested by priests and physically abused in church-run schools, and exposed bishops who attempted to hide the crimes.
After the Irish church atoned for its past and enacted tough new norms to fight abuse, it had been looking to the first visit by a pope in 40 years to show a different, more caring church.
More than 37,000 people, most of them young Catholics, signed up to attend the Vatican-sponsored World Meeting of Families, which ends today in Dublin — more than twice the number that attended the rally in Philadelphia three years ago.
Ireland's tortured history of abuse has left its mark.
Voters have over the past few years turned their backs on core Catholic teachings. They have overturned bans on abortion, divorce, contraception, homosexual acts and same-sex marriage.
Abuse victims and their supporters are to hold a solidarity rally in Dublin today while Francis is celebrating his final Mass.
Comments will be moderated. Keep comments relevant to the article. Remarks containing abusive and obscene language, personal attacks of any kind or promotion will be removed and the user banned. Final decision will be at the discretion of the Taipei Times.