More bodies found in flooded Kerala as toll passes 350
Rescuers yesterday waded into submerged villages in southern India in a desperate search for survivors cut off for days by floods that have already killed more than 350 people.
Entire villages in Kerala have been swept away in the state's worst floods in a century and emergency responders fear the death toll will rise as they reach areas almost entirely under water.
Anil Vasudevan, who handles disaster management at the Kerala health department, said authorities had isolated three people with chickenpox in one of the relief camps in Aluva town, nearly 250km from state capital, Thiruvananthapuram.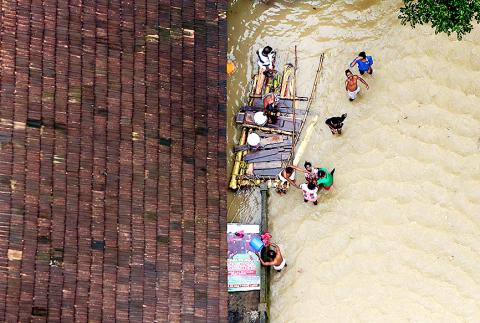 People wait to be rescued next to a makeshift raft in a flooded area in Kerala, India, yesterday.
Photo: Reuters
The department was preparing to deal with a possible outbreak of waterborne and airborne diseases in the camps, where an estimated 2 million people have taken shelter since the monsoon rains began three months ago, he said.
In Thrissur, one of the worst-hit districts, rescuers sifting through inundated houses have discovered the bodies of those unable to escape as the floodwaters quickly rose.
"They didn't think that it would rise this high — 10 to 15 feet [3m to 4.5m] at some places — when the initial warnings were issued," said Ashraf Ali K.M, who was leading the search in the small town of Mala.
"Some of them later gave distress calls when the water rose high and fast," he told reporters at the scene, where dead cattle and other livestock floated past.
Thousands of army, navy and air force troops fanned out across Kerala to assist as distress calls sounded out across the idyllic tourist hotspot.
The death toll stood at 357, local officials said, with 33 killed in just the past 24 hours.
Among the dead was a mother and son in Mala, whose home collapsed around them late on Saturday.
Another was a local man who volunteered for the search-and-rescue mission.
His body was retrieved by his comrades early yesterday, said Dibin K.S, a Kerala firefighter, in a grim reminder of the perils facing rescuers.
Officials have said many houses are irreparably damaged across the state, and have warned residents against trying to return to them.
Roads and 134 bridges have been damaged, isolating remote areas in the hilly districts of the state that are worst affected.
With power and communication lines down, thousands remained trapped in towns and villages cut off by the floods amid growing shortages of food and water.
A train from Pune, in Maharashtra state, embarked south on Saturday for Kerala laden with 1 million liters of drinking water.
Panic-stricken flood victims have been making appeals on social media for help, saying they cannot get through to rescue services.
In Mala, villagers had to improvise as the floodwaters rose.
Jobin K. John, a local rescuer, showed pictures of locals rowing through the murky brown waters using kitchen pots as rafts to reach their stricken neighbours.
"They used these huge cooking pots to rescue about 100 people in the first wave of flash floods, as no one was prepared" for a rescue, he told reporters.
Mobile phone operators have been offering free data and SMS messages across Kerala since Saturday to assist with distress calls.
Additional reporting by Reuters
Comments will be moderated. Keep comments relevant to the article. Remarks containing abusive and obscene language, personal attacks of any kind or promotion will be removed and the user banned. Final decision will be at the discretion of the Taipei Times.