Taiwanese shooters clinch gold on first day of Games
Taiwan yesterday won their first gold medal at the Asian Games in Indonesia and Taiwanese athletes won three bronze in other events, putting Taiwan in fifth place on the medals table.
Lin Ying-shin (林穎欣), 19, and Lu Shao-chuan (呂紹全), 20, scored a combined 494.1 points in the 10m air rifle mixed doubles event to win gold.
In the finals, Lin and Lu held their nerve and improved their scoring, first eliminating Mongolia and South Korea, and then prevailing over India and China.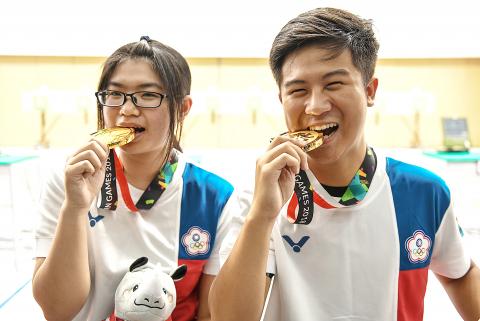 Taiwan's Lin Ying-shin, left, and Lu Shao-chuan pose with their gold medals after winning the 10m air rifle mixed doubles final at the Asian Games in Palembang, Indonesia, yesterday.
Photo: AFP
The Indian duo garnered 429.9 points to take the bronze, while Lin and Lu narrowly beat the Chinese pair, who scored 492.5 points for silver.
President Tsai Ing-wen (蔡英文), who was in the US, congratulated the winners, as did the nation's sports officials.
Lin and Lu made history by winning gold on the Games' opening day, a first for Taiwan.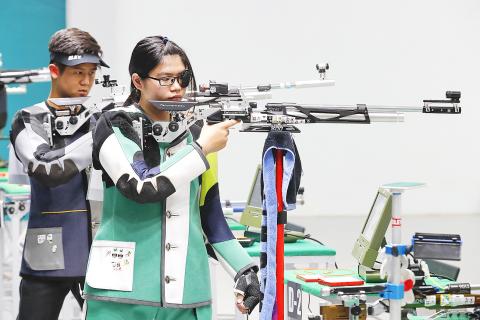 Taiwan's Lin Ying-shin, right, and Lu Shao-chuan shoot in the final round of the 10m air rifle mixed doubles event at the Asian Games in Palembang, Indonesia, yesterday.
Photo: AP
They also ended a 52-year drought by winning the first gold medal for Taiwan in an air rifle discipline since the 1966 Asian Games in Bangkok.
"Although I'm not satisfied with my scores today, I am very happy to win the gold medal, because it is the first gold in shooting for Taiwan after so many years. It also boosts my confidence for going to next month's world championship tournament in South Korea," Lin said.
Lu gave most of the credit to his partner, Lin: "She is the one with the higher scores among us. Before the final round, we actually did not shoot well, but in the end, it was the good chemistry between us, the way we complemented each other between turns and in checking scores" that led to victory.
Coach Chang Yi-ning (張億寧) said Lin and Lu were inconsistent in the qualification round and barely made the finals in fifth spot.
"However, they held firm and improved their aim to shoot better in the finals. Once they got ahead of the competition, they became more strong mentally and started shooting more consistently," Chang said.
Taiwan started the day on a high note when the first medal came at the morning's wushu competition, with Tsai Tse-min (蔡澤民) recording a career best of 9.7 points for a bronze medal in the changquan event.
In taekwondo, Taiwanese athletes fought their way into semi-final bouts to pick up two bronze medals.
Chen Ching (陳靖) faced Iran's Koorosh Bakthiar in the men's individual poomsae in taekwondo, but lost by a narrow margin of 8.48 to 8.57 points.
Chen settled for the bronze, while Bakthiar took home the silver.
Also in poomsae, the women's team of Chen Hsiang-ting (陳湘婷), Chen Yi-hsuan (陳以瑄) and Lin Kan-yu (林侃諭) could not overcome Thailand in their semi-final, losing 7.650 to 7.950, and taking home the bronze.
In women's softball, slugger Chen Chia-yi (陳家宜) blasted two solo homers against South Korea, but still needed Yang Yi-ting (楊依婷) to deliver a single for the go-ahead run in the eighth inning, for Taiwan to win 3-2.
In their opening match in women's volleyball, Taiwan were defeated by Kazkhastan in four sets, 15-25, 10-25, 25-20, 20-25.
In kabaddi, Taiwan downed Bangladesh 43-28 in their group-stage match in the women's team event, and are to face South Korea today.
Another win would advance them into the semi-finals.
In women's basketball, Taiwan extended their winning streak to three games when they routed India 84-61 and gave them the berth in the quarter-finals.
In women's team badminton, world No. 1 Tai Tzu-ying (戴資穎) led Taiwan to a three-straight set victory over Pakistan, and they are to face Thailand in the quarter-finals.
Comments will be moderated. Keep comments relevant to the article. Remarks containing abusive and obscene language, personal attacks of any kind or promotion will be removed and the user banned. Final decision will be at the discretion of the Taipei Times.