Agriculture council warns on risks of pork imports
The Council of Agriculture (COA) yesterday warned people against bringing pork from other countries into Taiwan after African swine fever was reported in China.
The Chinese Ministry of Agriculture and Rural Affairs on Friday issued a second-level warning over the disease, saying the nation's first case was found on a farm in Shenyang, Liaoning Province, and that 47 of the farm's 383 pigs have died from the disease.
While China filed a report about the outbreak with the World Organization for Animal Health (OIE), the situation in China is not clear, COA Deputy Minister Huang Chin-cheng (黃金城) told a news conference in Taipei yesterday.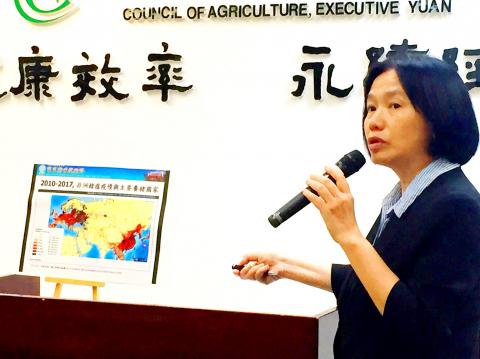 Animal Health Research Institute Director-General Tu Wen-jane told a news conference at the Council of Agriculture yesterday that people should not bring pork into Taiwan from abroad, following reports of an outbreak of African swine fever in China.
Photo: CNA
According to data on the OIE Web site yesterday, China had killed and disposed of 8,069 pigs.
Pork prices in China might plunge due to the disease, while some people might smuggle Chinese pork to Taiwan to mitigate their losses, Huang said, urging people not to put the domestic pork industry in danger by importing meat from China.
The disease, though fatal to pigs, cannot be transmitted from animals to humans, Bureau of Animal and Plant Health Inspection and Quarantine Deputy Director-General Shih Tai-hua (施泰華) said.
However, it could pose a serious threat to the pork industry, as there is no medication or vaccine, he said.
The virus can survive in refrigerated pork for 100 days, frozen pork for up to 1,000 days, farmhouses for one month and pig feces for 11 days, Shih said, urging hog farmers not to take the situation lightly.
People should not enter a domestic farm for a week after visiting a nation with infection cases, he said.
The bureau has asked the Coast Guard Administration and the Customs Administration to increase checks on imported goods, as well as bags belonging to people who return from areas that have reported the disease, he said.
Food waste from aircraft — which is mainly handled by EVA Airways Corp (長榮航空), China Airlines Ltd (中華航空) and Kaohsiung Airport Catering Services (高雄空廚) — will be rigorously controlled in line with environmental regulations, Shih added.
About half of the world's farmed pigs are from China, which is why the outbreak there raises such serious concerns, Animal Health Research Institute Director-General Tu Wen-jane (杜文珍) said.
The fever has become increasingly severe since 2016, when it spread from Baltic nations to other European countries and later to Irkutsk, Russia, Tu said.
However, the causes of its emergence in Liaoning Province, which is nearly 2,000km from the Russian city, remains uncertain, she said.
To collect more information about the disease, the bureau said it would convene meetings with industrial representatives and experts.
Comments will be moderated. Keep comments relevant to the article. Remarks containing abusive and obscene language, personal attacks of any kind or promotion will be removed and the user banned. Final decision will be at the discretion of the Taipei Times.