US lawmakers condemn PRC pressure on airlines
Several US lawmakers yesterday condemned China for pressuring US airlines to change Taiwan's listing on their Web sites, after American Airlines, Delta Air Lines and United Airlines on Wednesday changed their systems to display only Taiwanese city names.
The companies made the changes following an ultimatum from Beijing to bring their Web sites in compliance with China's assertions of sovereignty over Taiwan.
Reuters on Tuesday reported that an anonymous US Department of State official promised Beijing that US airlines would remove references to Taiwan as a nation from their Web sites, but would not call Taiwan a Chinese territory.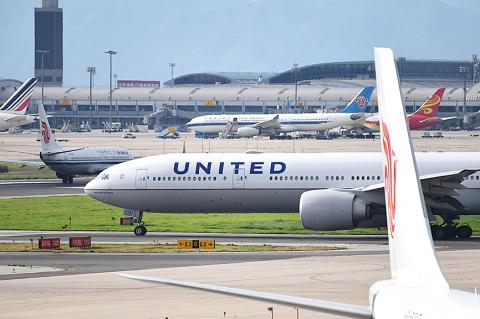 A United Airlines Boeing 777 aircraft waits to take off at Beijing airport on Wednesday.
Photo: AFP
US Senator Cory Gardner, a Republican, and Senator Edward Markey, a Democratic, convened a subcommittee hearing to discuss China's diplomatic efforts to isolate Taiwan, while other US lawmakers expressed outrage via official statements or social media.
US lawmakers decried China's bullying, while some expressed disappointment at the airlines.
"It's disappointing that the [airlines] complied with this ultimatum, but the Chinese Communist Party's obsession with Taiwan — the only democracy on Chinese soil — is pathetic," said US Senator Tom Cotton, a Republican. "These demands are the mark of insecure, impotent leaders who know the future will not belong to them."
"US airlines caving to China's pressure on Taiwan is another bad precedent that will only encourage more bullying, undermining of liberal values [and] attempts to mold the world in Beijing's malignant image," said US Representative Ileana Ros-Lehtinen, a Republican.
"Unacceptable that China is forcing US business to become [Chinese] Communist Party mouthpieces," said US Representative Ted Yoho, a Republican.
"By erasing any reference to Taiwan from their Web sites, United, Delta and American Air are bowing to China," said US Representative Brad Sherman, a Democrat.
"An edit to a Web site won't change the fact that Taiwan exists and is an important US ally," said US Representative Paul Cook, a Republican.
"We must always stand with democratic allies like Taiwan and we must continue to raise our strategic game," said US Representative Chris Smith, a Republican.
Taiwan's representative office in the US thanked the US Congress for its continuing support.
Meanwhile, the Civil Aviation Administration of China yesterday said that the measures taken by some US airlines were still incomplete.
Four airlines — American, Delta, United and Hawaiian Airlines — had on Wednesday submitted rectification reports and sought two-week extensions for Web site audits, the agency said.
It did not say in what way the amendments were incomplete.
Checks on Wednesday showed that at least three of the airlines now list only Taipei's airport code and city, but not the name "Taiwan."
The agency said it would closely monitor the matter and could decide to take "appropriate steps" depending on the situation.
It is unclear how China might punish airlines that do not comply.
Additional reporting by Reuters
Comments will be moderated. Keep comments relevant to the article. Remarks containing abusive and obscene language, personal attacks of any kind or promotion will be removed and the user banned. Final decision will be at the discretion of the Taipei Times.