Google hit with record EU fine
NEAR-MONOPOLY: The US tech giant illegally used Android to boost usage of its own search engine and browser, the EU commissioner for competition said
The EU yesterday slapped Google with a huge 4.34 billion euro (US$5.05 billion) fine for abusing the dominance of its Android operating system in the biggest antitrust penalty in the bloc's history.
The US tech giant illegally used Android's near-monopoly to boost usage of its own search engine and browser, EU Commissioner for Competition Margrethe Vestager said.
The decision, which follows a three-year investigation, comes as fears of a transatlantic trade war mount due to US President Donald Trump's decision to impose tariffs on European steel and aluminum exports.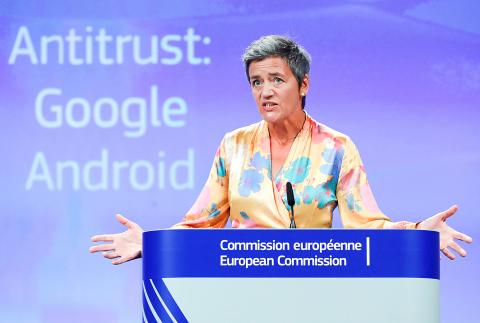 EU Commissioner for Competition Margrethe Vestager addresses a news conference on Google in Brussels yesterday.
Photo: Reuters
"Today the commission has decided to fine Google 4.34 billion euros for breaching EU antitrust rules," Vestager told a news conference in Brussels. "Google has engaged in illegal practices to cement its dominant market position in Internet search."
Vestager, who has taken on a string of Silicon Valley titans as EU antitrust chief, said that Google "must put an effective end to this conduct within 90 days or face penalty payments" of up to 5 percent of its average daily turnover.
The sanction nearly doubles the previous record EU anti-trust fine of 2.4 billion euros, which also targeted Google, in last year's case for the Silicon Valley titan's shopping comparison service.
Google immediately said it would appeal the fine.
"Android has created more choice for everyone, not less," Google spokesman Al Verney said in a statement. "A vibrant ecosystem, rapid innovation and lower prices are classic hallmarks of robust competition. We will appeal the commission's decision."
Vestager on Tuesday night spoke by telephone with Google chief executive officer Sundar Pichai to tell him about the decision in advance.
Google had shut out rivals by forcing major smartphone makers, including South Korea's Samsung Electronics Co and China's Huawei Technologies Co (華為), to pre-install its search engine and Google Chrome browser, thereby freezing out rivals, Vestager said.
They were also made to set Google Search as the default, as a condition of licensing some Google apps.
Google Search and Chrome are as a result pre-installed on the "significant majority" of devices sold in the EU, the European Commission said.
Google also prevented manufacturers from selling smartphones that run on rival operating systems based on the Android open source code, the commission said.
Google also gave "financial incentives" to manufacturers and mobile network operators if they pre-installed Google Search on their devices, it said.
Google provides Android free to smartphone manufacturers and generates most of its revenue from selling advertisements that appear along with search results.
Under EU rules, Google could have been fined up to 10 percent of parent company Alphabet Inc's annual revenue, which hit US$110.9 billion last year.
Vestager's campaign against Silicon Valley giants in her four years as the 28-nation EU's competition commissioner has won praise in Europe, but angered Washington.
Brussels has repeatedly targeted Google over the past decade amid concerns about the Silicon Valley giant's dominance of Internet search across Europe, where it commands about 90 percent of the market.
In addition to the Android and Google Shopping files, it also has a third investigation underway, into Google's AdSense advert-placing business.
The Google decision comes just one week before European Commission President Jean-Claude Juncker is due to travel to the US for crucial talks with Trump on the tariffs dispute and other issues.
Comments will be moderated. Keep comments relevant to the article. Remarks containing abusive and obscene language, personal attacks of any kind or promotion will be removed and the user banned. Final decision will be at the discretion of the Taipei Times.