Taiwan plans Apache service center: source
FEMALE FIRSTS: Taiwan's first female Huey pilot has become the first woman in the nation — and in Asia —to receive certification to pilot the attack helicopter
Taiwan will strive to collaborate with the US to establish a regional repair and maintenance center for the Boeing AH-64 Apache helicopter, an unidentified senior government official said yesterday.
Asian nations have embarked on large purchases of the attack helicopter over the past few years, and at last count there were more than 100 Apaches in service across the region in the militaries of Taiwan, Japan, South Korea, Singapore, India and Indonesia, the official said.
The increase in Apaches in the region would mean an increased need for maintenance and repairs, the source said, adding that Taiwan should attempt to negotiate a deal similar to the one Chicago-based Boeing struck with Saudi Arabia in March.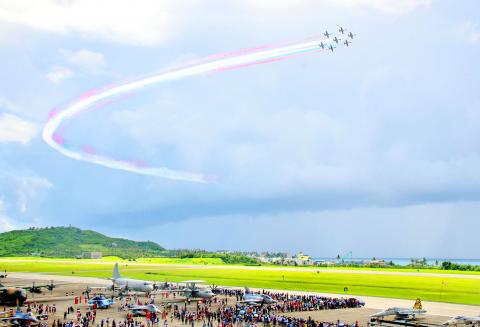 The air force's Thunder Tiger Aerobatics Team performs at Taitung County's Chihhang Air Base, which was opened to the public yesterday. About 6,000 visitors attended the event, which also commemorated the 81st anniversary of the Marco Polo Bridge Incident.
Photo: CNA
Boeing signed a memorandum of understanding with Saudi Arabia Military Industries to develop a joint venture that would base at least 55 percent of the region's maintenance and repair work for rotary-wing aircraft in Saudi Arabia.
Establishing a similar deal would be beneficial for Taiwan and the US, the official said.
According to the Ministry of National Defense, the Army Aviation and Special Forces Command's 601st Brigade based in Taoyuan's Longtan District (龍潭) is the go-to maintenance and repair unit for all of the rotary-wing aircraft in the army, including the Apache, the Sikorsky UH-60M Black Hawk, the Bell OH-58D Kiowa Warrior and the general purpose Bell UH-1H, commonly referred to as the Huey.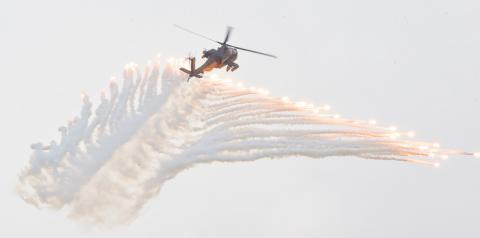 An AH-64E Apache on June 7 deploys flares at Taichung International Airport during the Han Kuang military exercises.
Photo: Liu Hsin-de, Taipei Times
In related news, the nation's first female Huey pilot is to make her public debut as an Apache pilot at a ceremony scheduled for Tuesday to officially commission the latest batch of the attack helicopters purchased from the US, sources said yesterday.
After a 10-month course on how to operate the attack helicopter, Major Yang Yun-hsuan (楊韻璇) has become the first woman in Taiwan — as well as the whole of Asia — to receive full certification as an Apache pilot, the sources said.
Yang's father had also served as a pilot for the army's UH-1H helicopters, which Yang has cited as a major reason for pursuing a career as an aviator, they said.
Both Yangs flew the UH-1H following the major's acceptance into the army's helicopter flight program, they added.
The ceremony was originally planned for Wednesday, but was rescheduled because of Typhoon Maria.
Comments will be moderated. Keep comments relevant to the article. Remarks containing abusive and obscene language, personal attacks of any kind or promotion will be removed and the user banned. Final decision will be at the discretion of the Taipei Times.