ZTE soars after US signs deal to lift tech purchase ban
ZTE Corp's (中興通訊) shares surged after it inked an agreement with the US to allow the company to resume doing business with US suppliers, meeting a key Chinese government demand.
The Chinese telecom gear maker signed an escrow agreement with the US Department of Commerce, and a ban on US technology purchases is to be lifted as soon as ZTE deposits US$400 million, the department said in an e-mailed statement on Wednesday.
A person familiar with the matter said the escrow payment should be completed within a day.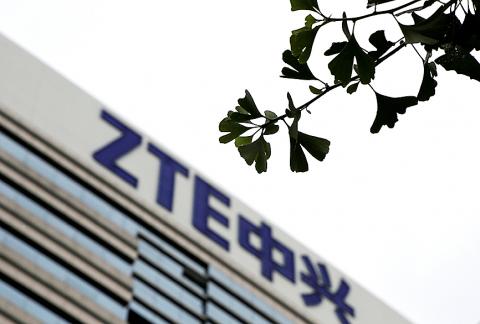 ZTE Corp's logo is pictured on the building of the company's research and development center in Beijing on June 13.
Photo: Reuters
ZTE last month took a major step forward in meeting the White House's conditions by sacking its entire board and appointing a new chairman.
Its new management faces the challenge of rebuilding trust with phone companies and corporate customers, but the company is said to be facing at least US$3 billion in total losses from a months-long moratorium that choked off the chips and other components needed to make its networking gear and smartphones.
Shares in ZTE, which is operating on a temporary waiver that expires on Aug. 1, soared as much as 24 percent in Hong Kong. Its Shenzhen-listed stock rose by its 10 percent daily limit.
"As ZTE is finally near the end of the tunnel, we believe its current stock price incorporates an overly pessimistic view on the settlement," Jefferies Group LLC analysts Edison Lee and Timothy Chau wrote in a note yesterday. "Assuming ZTE will be able to get back into business next week, we believe the market will start focusing on its earnings prospects."
ZTE representatives had on Monday met with department officials to discuss a path forward for the deal, people familiar with the meeting said on condition of anonymity.
"Once the monitor is selected and brought on board, the three-pronged compliance regime — the new 10-year suspended denial order, the US$400 million escrow and the monitor — will be in place," the department said in the statement.
A bipartisan group of US lawmakers remains concerned about ZTE's threat to US national security and is pushing for legislation aimed at restoring harsher penalties.
Wednesday marks the start of negotiations on legislation that would try to balance concerns that ZTE presents a security risk with efforts to get the company back into business.
Comments will be moderated. Keep comments relevant to the article. Remarks containing abusive and obscene language, personal attacks of any kind or promotion will be removed and the user banned. Final decision will be at the discretion of the Taipei Times.