Chinese democracy activist given 13 years for subversion
China's Wuhan Intermediate People's Court yesterday sentenced political campaigner Qin Yongmin (秦永敏) to 13 years in jail for "subversion of state power."
It appears to be the heftiest sentence handed down in China for "subversion" in the past 15 years, court records showed.
The 64-year-old, first jailed as a "counter-revolutionary" from 1981 to 1989, has already spent a total of 22 years behind bars.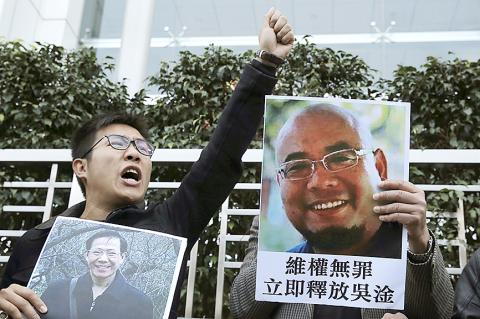 Democracy advocates hold photographs of Chinese activists Qin Yongmin, left, and Wu Gan outside the Chinese central government's liaison office in Hong Kong on Dec. 27 last year.
Photo: AP
At the time of his arrest in January 2015, Qin was head of the pro-democracy China Human Rights Watch group, which circulated online statements denouncing government policies and organized discussion groups.
Qin had "refused to cooperate with the court" and remained completely silent during his trial in May, lawyer Lin Qilei (藺其磊) previously said.
His other lawyer, Liu Zhengqing (劉正清), vowed to appeal, telling reporters that Qin was in "despair" about the sentencing and "angry at the rogue regime" in China.
Prosecutors cited Qin's writings on democracy as evidence, including a passage in which he called on young Chinese to fight for human rights protections according to UN treaties.
Qin was last convicted and sentenced to prison in late 1998 after he and other activists sought to officially register the China Democracy Party. He was released in December 2010.
Upon his release, Qin said that police had told him not to speak with journalists, while several of his supporters who had hoped to meet him have disappeared.
Chinese Human Rights Defenders researcher Frances Eve said that Qin was "prosecuted for his belief in a democratic China, as well as his actions in advocating for human rights."
"Authorities have been unable to build a case against him, despite three years of investigation," Eve added.
Comments will be moderated. Keep comments relevant to the article. Remarks containing abusive and obscene language, personal attacks of any kind or promotion will be removed and the user banned. Final decision will be at the discretion of the Taipei Times.