Merkel coalition's fate hangs in balance after threat
German Chancellor Angela Merkel's ruling coalition yesterday risked breaking apart as her hardline conservative Bavarian allies pushed a showdown over migrant policy after she was unmoved by her interior minister's threat to resign.
German Minister of the Interior Horst Seehofer insisted on his plan to turn away asylum seekers at the border with Austria registered in other European countries, as he rejected EU deals reached last week by Merkel as inadequate.
Seehofer said after talks with his party stretching into the small hours of yesterday morning that he would step down as minister and head of the Christian Social Union rather than acquiesce in the increasingly bitter standoff.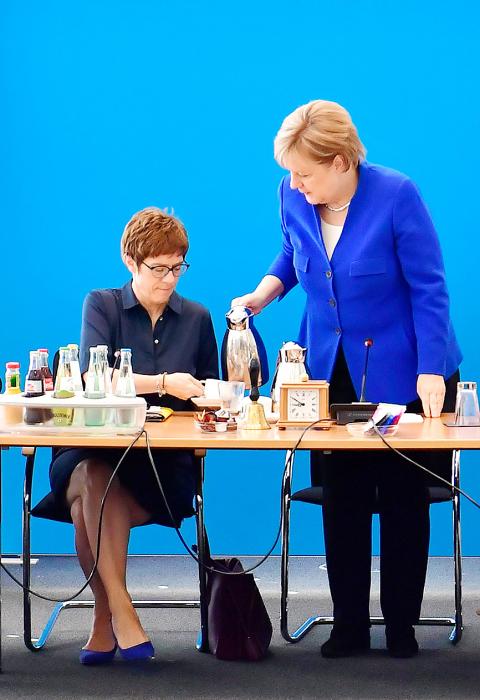 German Chancellor Angela Merkel, right, serves coffee to Christian Democratic Union (CDU) Secretary-General Annegret Kramp-Karrenbauer at the CDU's headquarters in Berlin yesterday.
Photo: AFP
However, after a night of high drama, Seehofer later said he would hold last-ditch talks with Merkel's Christian Democratic Union (CDU) "in hopes of reaching an understanding."
The future of Merkel's governing coalition between the CDU-CSU alliance and the center-left Social Democratic Party (SPD) appeared to hang by a thread, as media slammed what they called a reckless game of chicken.
"It is fair to ask: has the CSU lost its mind?" Der Spiegel reporter Rene Pfister said.
"In the end, the government could fall and an old, proud party could descend into ridiculousness — and all of that to solve a problem that in reality hardly is one," given the dramatically lower numbers of asylum seekers arriving in Germany this year.
German Minister of Foreign Affairs Heiko Maas of the SPD said the crisis had already damaged the country's standing as a bulwark of European stability.
"I think the way this debate is being conducted is hurting Germany's image and above all that of the German government," he said.
If Merkel holds firm and Seehofer does quit, the CSU could offer a replacement interior minister if it aims to remain tied to her party.
Alternatively, it could break up the two parties' 70-year partnership, depriving Merkel of her majority in parliament and pitching Germany into uncharted political waters.
As he entered a CDU crisis meeting yesterday, deputy leader Armin Laschet said the sister parties "want to hold onto" their alliance.
"It is a precious thing for our party system and that is why I'm confident we will succeed," he said.
Meanwhile, Bavarian state Premier Markus Soeder appeared to indicate a willingness to cut Seehofer loose for the sake of the coalition.
Comments will be moderated. Keep comments relevant to the article. Remarks containing abusive and obscene language, personal attacks of any kind or promotion will be removed and the user banned. Final decision will be at the discretion of the Taipei Times.