N Korean advances show challenges
Evidence of new efforts by North Korean leader Kim Jong-un to expand his nuclear arsenal underscore the challenge facing US President Donald Trump three weeks after declaring that North Korea was "no longer a nuclear threat."
Several reports released in recent days suggest that Kim continued to ramp up his weapons production — rather than prepare to disarm — in the weeks leading up to his June 12 summit with Trump in Singapore.
The reports published by independent researchers and media organizations detail efforts to increase fuel production, build more missile launchers and expand a key rocket-engine manufacturing facility.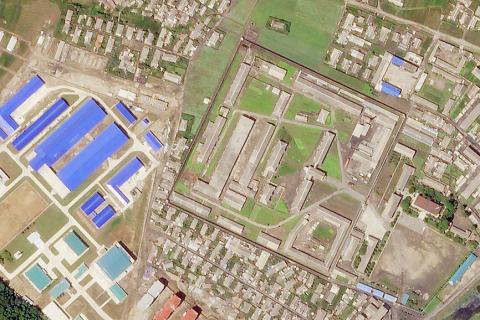 An enhanced handout from a satellite image taken on June 29 shows a North Korean missile production facility, with blue roofs, in the city of Hamhung.
Photo: Reuters / Planet Labs Inc
The moves illustrate how far Kim remains from surrendering his nuclear weapons despite committing to "work toward complete denuclearization of the Korean Peninsula" during his meeting with Trump.
While the reports — some relying on satellite imagery predating the summit — have not been officially verified, they suggest that US Secretary of State Mike Pompeo has much to discuss during an expected trip to Pyongyang in the coming days.
"The reports are just a good reminder of how complicated and difficult it is to denuclearize the North," said Shin Beomchul, director at the Asan Institute for Policy Studies' Center for Security and Unification in Seoul. "North Korea's intent to denuclearize has been verified only by words and, now with Pompeo expected to make another visit to Pyongyang, it's time to prove them with actions."
In the days since the summit, Kim has expanded ties with rivals and allies alike, visiting China and holding talks on economic cooperation with South Korea.
Trump has touted the agreement in campaign-style rallies despite criticism by arms-control experts that the lack of a clear implementation framework makes it easy for Kim to exploit.
The Seoul-based Munhwa Ilbo newspaper yesterday reported that the South Korean government was considering canceling or scaling back missile-defense plans.
Although Kim has pledged to halt nuclear-weapons tests and demolished a facility used for all six of the country's atomic bomb detonations, he has said nothing about production and made no commitment to unilaterally disarm.
US defense analysts have said North Korea retains as many as 60 nuclear bombs and a range of missiles.
Recent revelations include an NBC News report that said US intelligence agencies believe the North has increased its production of enriched uranium fuel for nuclear weapons at multiple secret sites in recent months.
The report, citing unidentified US officials, said the US side suspected Kim might try to conceal those facilities as negotiations progress.
Moreover, the Middlebury Institute of International Studies on Sunday released an analysis that found North Korea has recently expanded a factory complex in Hamhung that produces key engines for solid-fuel ballistic missiles.
Meanwhile, during an appearance on CBS's Face the Nation program on Sunday, Trump's national security adviser, John Bolton, said that most of Kim's weapons of mass destruction could be dismantled "within a year" with North Korean cooperation — something he acknowledged that the US has yet to receive.
Comments will be moderated. Keep comments relevant to the article. Remarks containing abusive and obscene language, personal attacks of any kind or promotion will be removed and the user banned. Final decision will be at the discretion of the Taipei Times.