Taiwan maintains classification in US trafficking report
Taiwan has obtained a top-tier ranking for the ninth consecutive year in the annual Trafficking in Persons Report released by the US Department of State on Thursday. Taiwan was listed in Tier 1, because its authorities fully meet the minimum standards for eliminating trafficking, the report said.
In the past year, Taiwan continued to demonstrate serious and sustained efforts, such as sharply increasing the number of trafficking prosecutions, identifying a significantly higher number of victims and providing improved services for trafficked people compared with previous years, it said.
However, the separation of purview between the Ministry of Labor and the Fisheries Agency continued to impede efforts to address forced labor on Taiwan-flagged and owned fishing vessels in the highly vulnerable distant water fleet, it added.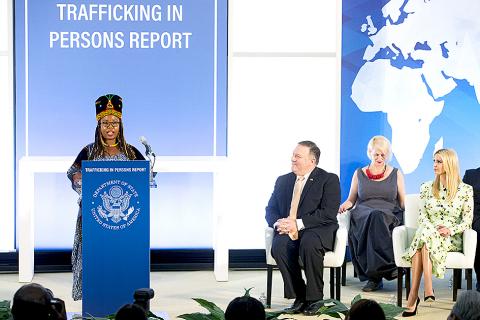 Francisca Awah Mbuli, left, a survivor of human trafficking and founding director of Survivors' Network, delivers remarks during the presentation of the Trafficking in Persons Report Hero Award in Washington on Thursday.
Photo: EPA
In addition, authorities at times did not pursue appropriate legal action against Taiwanese reported to have subjected migrant workers to forced labor on fishing vessels, the report said.
Lack of awareness and dissuasive performance evaluation systems in the judiciary continued to drive lenient sentencing for traffickers, and domestic workers and caregivers remain at elevated risk due to a stalled domestic worker protection bill, it added.
Certain provisions of the nation's child sexual exploitation laws also appeared insufficient to criminalize all forms of the crime, the report said.
It recommended that Taiwan increase its efforts to prosecute and convict traffickers and sentence convicted traffickers to sufficiently stringent punishment.
The nation should also increase oversight of and prosecute the owners of Taiwan-owned and flagged distant-water fishing vessels suspected of forced labor and enact legislation that would address gaps in basic labor protections for domestic workers, the report said.
As in the past five years, Taiwan remains a destination for people subjected to forced labor and sex trafficking, it said.
Taiwanese women and children are subjected to domestic sex trafficking as part of an increasing trend in which traffickers induce and take advantage of drug addiction among foreigners and locals, it said.
In addition, there have been reports of Taiwanese engaged in illegal business operations overseas that indicate human trafficking, including telecom scams targeting Chinese, the report added.
Elsewhere in the report, it indicated that Myanmar is not doing enough to tackle human trafficking as it downgraded the nation to the worst tier.
Myanmar slipped down to Tier 3 for failing to protect Rohingya Muslims fleeing a military crackdown in Rakhine State.
The Rohingya were "subjected to exploitation — or transported to other countries for the purpose of sex trafficking — as a result of their displacement," the report said, adding that some Rohingya children were abducted in transit and sold into forced marriages in India, Indonesia and Malaysia.
The report ranks 187 nations using its three-tier index. A Tier 3 ranking could lead to non-trade-related sanctions.
Myanmar joined China, Russia, Laos, South Sudan and North Korea in the lowest ranking.
Thailand and Pakistan were upgraded to a Tier 2 ranking from the Tier 2 watchlist.
Comments will be moderated. Keep comments relevant to the article. Remarks containing abusive and obscene language, personal attacks of any kind or promotion will be removed and the user banned. Final decision will be at the discretion of the Taipei Times.