Three groups named as KMT-affiliated
FOUNDATIONAL FUNDS: The three organizations were established in 2015 using funds provided by Hsinyutai, a firm that was in 2016 confirmed to be KMT-affiliated
The Executive Yuan's Ill-gotten Party Assets Settlement Committee yesterday deemed three more foundations to be affiliated with the Chinese Nationalist Party (KMT), which decried the decision as political persecution.
The committee passed a resolution naming the National Development Foundation (國家發展基金會), the Minchuan Foundation (民權基金會) and the Mintsu Foundation (民族基金會) as KMT-affiliated organizations.
The foundations' estimated combined assets of NT$90 million (US$2.95 million) are to be frozen, the committee said.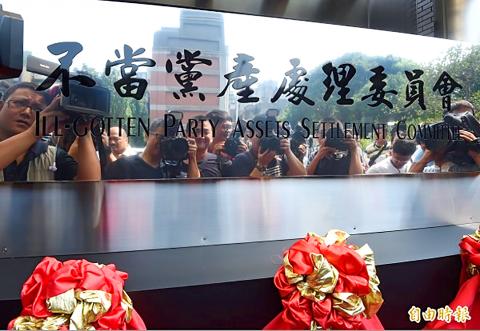 Photojournalists take photographs of the Ill-gotten Party Assets Settlement Committee signboard at its office in Taipei yesterday.
Photo: Chen Yu-fu, Taipei Times
The organizations were founded in 2015 under then-KMT chairman Eric Chu (朱立倫) using NT$30 million in funds provided by KMT-run Hsinyutai Co Ltd (欣裕台), committee spokesperson Shih Chin-fang (施錦芳) said.
Two separate hearings on Jan. 20 and March 29 attempted to determine whether the KMT controlled the foundations' personnel, finances and management, and whether Hsinyutai's NT$30 million should be considered ill-gotten.
Use of the funds from Hsinyutai, which in November 2016 was confirmed to be affiliated with the KMT, has tarnished the foundations' reputation and cast doubt on their proclaimed operational independence, Shih said.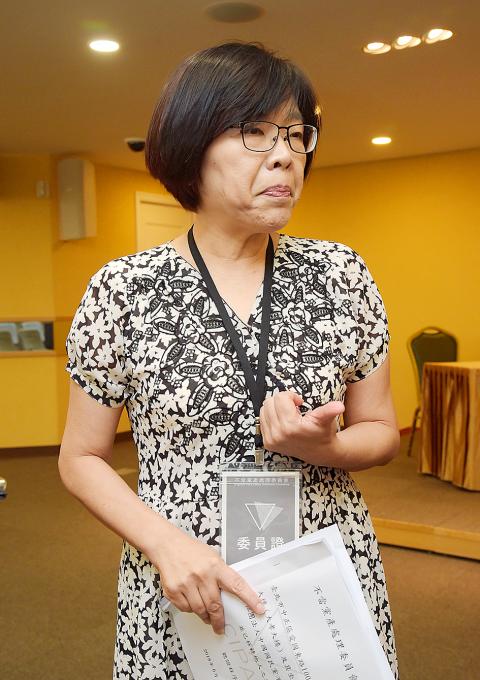 Ill-gotten Party Assets Settlement Committee spokeswoman Shih Chin-fang is pictured in Taipei on Tuesday.
Photo: Huang Yao-cheng, Taipei Times
None of the three foundations are engaged in social welfare, and as nearly every board executive is a KMT member, it is clear that the party controls the organizations, Shih said.
The committee asked Chu to attend meetings to clarify matters many times, but he refused, a source said.
However, the committee has obtained proof of a public statement Chu made on Nov. 25, 2015, that "party members should, of course, be given priority for board member nominations, as this foundation is founded on party donations," the source said.
This adds to the proof that the three foundations were founded with KMT money, the source added.
KMT spokesperson Hung Meng-kai (洪孟楷) rejected the resolution and said that the party would take legal action once it receives official notice from the committee.
The Act Governing the Settlement of Ill-gotten Properties by Political Parties and Their Affiliate Organizations (政黨及其附隨組織不當取得財產處理條例) states that an "affiliated organization" is one in which a party has substantial control over its finances or personnel, but the foundations are independent entities, Hung said.
The resolution contradicts itself and targets the KMT, he said, adding that not only has the committee entirely disregarded the party's explanations, but it is also possible that the decision was politically motivated.
The committee is seeking to redirect public attention from pension reform and sagging popularity ratings for President Tsai Ing-wen (蔡英文), Hung said.
Additional reporting by Chen Yu-fu
Comments will be moderated. Keep comments relevant to the article. Remarks containing abusive and obscene language, personal attacks of any kind or promotion will be removed and the user banned. Final decision will be at the discretion of the Taipei Times.